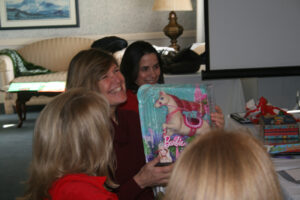 Many businesses and organizations host Christmas parties, have gift exchanges and give back to the community during the holiday season. We're no different here at Greater Spokane Incorporated.
How does you company celebrate the holiday season? Any crazy gift exchange stories? Fights over how many times a gift was "stolen" during a White Elephant exchange (we've all been there)?
Well here's what we do at GSI:
Each year, we draw names out of a hat for our annual gift exchange. Nothing out of the ordinary.
The only catch is that you must buy gifts you think that co-worker would have liked as a child. That way, we can laugh, think back to our childhood, and wish we were all five again. Life was much easier back then. It was quite the sight watching everyone open presents to find Barbies, teddy bears, Playskool toys, soccer balls and other fun items.
After having a good time with the gift exchange, we all went back to the office and deposited our gifts into our two big Toys For Tots bins. We gladly filled each bin to its brink, along with the help of our members at the December Good Morning Greater Spokane breakfast. Nice to know lots of people are in the giving spirit this season.
So that's what we did. How'd your office celebrate?