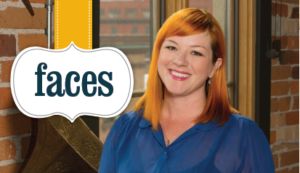 Hometown: Spokane
Current Residence: The University District
Occupation: Executive Director of Spokane Arts
Laura Becker left Spokane in search of a more creative community. Twenty years later she's found the eclectic, artsy energy she was looking for- back here at home. And today she's not only advocating for the arts in Spokane- she's leading the charge.
Like many young people in Spokane, Becker left her hometown for college with no plans of looking back. She moved to California's Bay Area, then Seattle, Rhode Island, and eventually came back to the west coast. While managing public art projects for Washington State, she spent time in Spokane. She said while the city was familiar, it was also completely different.
"The landscape and the climate are the same, but the economy, the people who live here, the growth and the presences of arts and culture are vastly different than when I left," said Becker.
Last year, Becker became the Executive Director of Spokane Arts, a non-profit organization working to amplify the city as the cultural hub for the Inland Northwest. Becker said she was encouraged by what she was seeing in Spokane, and that helped draw her back.
"The people are more welcoming to those coming in from the outside. There is more open-mindedness. Young people upstarting are embraced, and everyone wants to invest in where they live and build community."
Part of building that community means putting down roots. And new energy is breathing new life into many areas of Spokane.
"I love the growing identities of the different districts and neighborhoods. I'm constantly discovering different facets of Spokane," she said. "I grew up on the South Hill and also lived on the North side. When I came back, I wanted to live somewhere I'd never been. I found a great place on the eastern edge of the University District- in an area that had historically been a bad spot. That's really suggestive of the transition Spokane has made."
Another area that underwent tremendous change while she was gone- downtown.
"There's been a dramatic uptick in the culture downtown. When I was growing up, no one went there. But now there's so much reinvestment in the downtown core. There are great restaurants, you can see live music or theater, attend a lecture at the MAC… on any given night there's always something going on."
Becker estimates Spokane offers 90 percent of the cultural events one would find in Seattle or another big city. But, she says, Spokane is neither elitist nor high-brow. "The arts in Spokane are very accessible. We have a large number of creative jobs here, and the community is friendly, welcoming and open to new contribution."
She did have some advice for visitors or those considering a move here.
"Get out and enjoy the nature and the beauty. Take advantage of our educational richness. Visit one of our many colleges and check out the public art on the campuses. And finally, Spokane isn't a pass-through city. Really take a look around. There are some cool things popping up in seemingly ordinary spaces where you're not always looking."