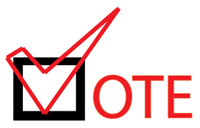 Voters in the greater Spokane area will soon receive their ballots for the Nov. 5 election. While there's no Presidential election like last year, there are some important initiatives and a proposition that will impact you and your business.
First, we must provide a disclaimer: Greater Spokane Incorporated does not endorse candidates running for office. We do, however, take positions on business and community issues. Not all business and community issues, but many. For more on the process our organization takes when it comes to supporting or opposing an issue, read our blog from Oct. 12, 2010.
This year, there are three items on your ballot that we've taken a position on:
Proposition 1: A Levy to Protect Fairchild Air Force Base – SUPPORT
Prop 1 would levy a property tax in Spokane County for up to 6.5 cents per $1,000 of assessed property value. The levy would raise about $18 million so the County can purchase land in the Accident Potential Zone (APZ) at the end of the runway at Fairchild Air Force Base, demolish what needs to be demolished, and relocate current residents. Currently, nearly 190 mobile home units occupy land in the APZ – a safety hazard area. The amount of homes in the APZ is a density much too high for the Department of Defense's liking and presents and encroachment issue for the base.
Encroachment is the fatal flaw of military bases and it is the community's duty to protect its base and eliminate encroachment threats. With a round of base closures expected in the next few years (the Department of Defense has requested a base closure process in 2015), we must do all we can to protect our region's largest employer. Fairchild employs nearly 6,000 civilian and military personnel and is home to around 8,000 residents. Many more live within the surrounding communities, volunteer, go to our schools, purchase housing, vehicles, and food, and contribute to our economy.
The military as a whole contributes $1.3 billion to our regional economy annually, according to Spokane County. Much of that is fueled by Fairchild being here. The $18 million needed to purchase the property in the APZ is a tiny amount compared to the annual economic impact the military provides.
If your property is worth $200,000, you'd pay just $13 a year. As you can see, the price you'd pay is minimal and is worth the cost of protecting our region's biggest asset.
The levy would run for no more than nine years, or once the County raises the $18 million.
Spokane County and area nonprofits are working on a respectful relocation plan for current residents in the APZ.
For more information on Prop 1, visit www.YesOnProp1.com.
Initiative 517 – OPPOSE
Earlier this year, two proposed initiatives in the City of Spokane were ordered removed from the ballot by a Spokane County Superior Court Judge. Those anti-business initiatives – from Envision Spokane and Spokane Moves to Amend the Constitution (SMAC) – were ruled invalid and would have likely been ruled unconstitutional had they passed on Nov. 5.
We were part of a group of petitioners that filed the pre-election challenge that ultimately led to the proposed initiatives' demise. If I-517 passes, it will eliminate the public's ability to file pre-election challenges.
Allowing an initiative to be printed on a ballot without any vetting process does a disservice to voters in our state. Items that are likely to be ruled unconstitutional should not be seen in a voting booth (or in our state's case, a mail-in ballot). Municipalities would incur the cost of defending the constitutionality of those initiatives if they pass.
Furthermore, I-517 would allow petitioners to collect signatures in front of the entrances of "any store," which would ignore the rights of property owners.
For more information, visit www.No517.org.
Initiative 522 – OPPOSE
Initiative 522 would require food that contains Genetically Modified Organisms (GMOs) to be labeled as such. This initiative would create a new level of bureaucracy to food production and would burden farmers, producers and grocers. There is no scientific proof that GMOs are harmful to someone's health.
For some reason, I-522 would exempt certain foods, such as those served in restaurants.
Food production competes in a world market, and I-522 would put Washington at a disadvantage with the rest of the nation. If food labeling is to be required, the mandate should come from the federal government.
Finally, those wishing to purchase non-GMO food can already do so by purchasing food labeled "organic" or "non-GMO." I-522 would hurt food producers purely for emotional reasons.
For more information, visit www.FactsAbout522.com.