There's been a lot of talk recently about a proposed casino/mixed-use development on the West Plains. Its location is the only aspect of the proposal that troubles us here at Greater Spokane Incorporated, and here's why:
The proposed development falls directly in the flight paths of training missions at Fairchild Air Force Base, and is too close to the base altogether: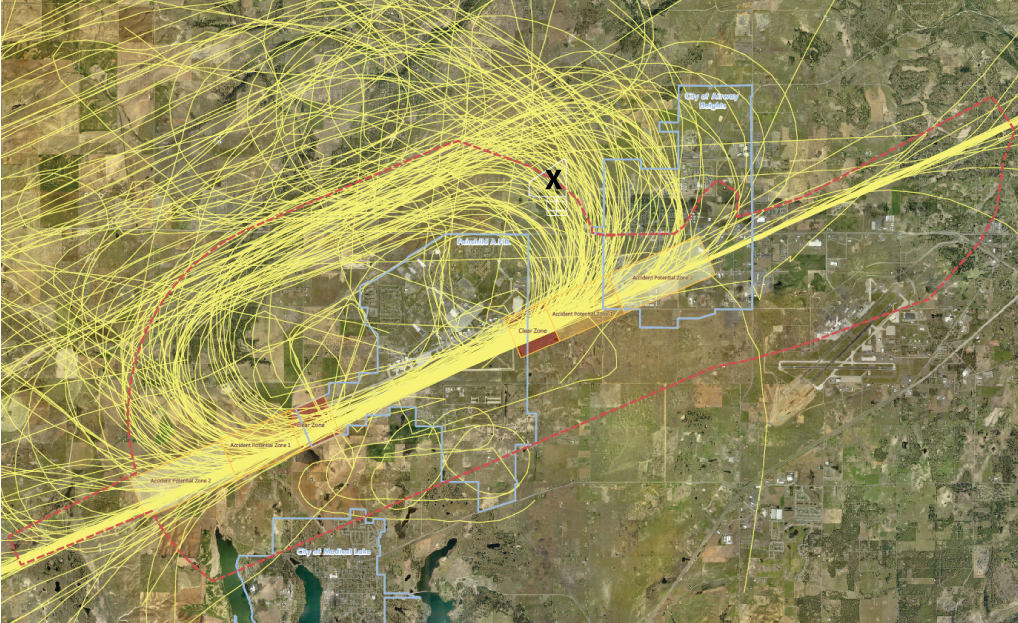 Click For A Larger View
A multi-story hotel is one of the developments proposed on the 145-acre property. This, coupled with a casino and other buildings, creates density, noise, lighting and safety concerns for planes flying along the "racetrack" seen above. When developments like this come too close to air bases, encroachment becomes the "Achilles' heel" of the base.
The Department of Defense has proposed two rounds of base closures within the next three years. We're currently in the process of trying to get the new KC-46A tankers based at Fairchild. Putting the base at risk for closure puts all of that work in jeopardy, not to mention jobs currently in our community. Whether or not base closures happen within two years or 20 years, we must do all we can to protect our base.
Fairchild employs more than 5,700 individuals. It's responsible for the family members of those employed, as well as approximately 13,000 retirees in the area. The military as a whole has a $1.3 billion annual economic impact, according to Randy Barcus, Chief Economist at Avista.
As an economic development organization, we're always looking for developments that bring jobs. But the first priority of any organization like ours is to retain the jobs the region already has. The proposed development estimates 3,800 jobs would be created, but many of those would be temporary construction jobs. Those employed at Fairchild have sustainable jobs that won't leave unless the base closes. We cannot let that happen.
Fairchild has been in our community for more than 70 years. Losing it would be devastating.