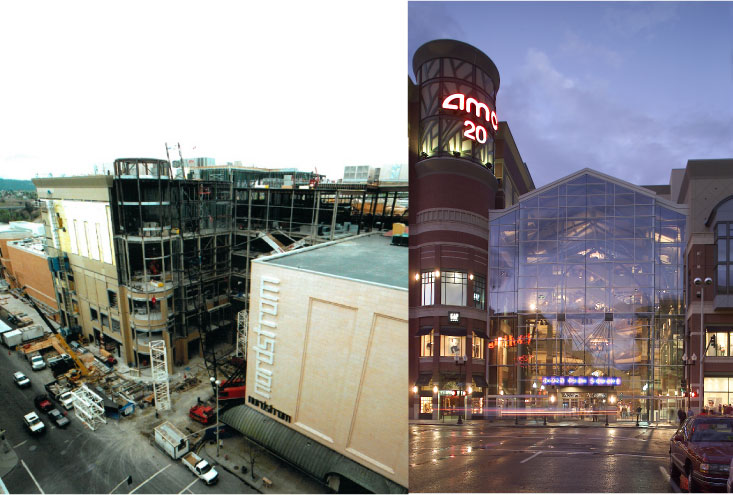 Downtown Spokane: it's the place you take your family when they come to visit, where you go out to dinner, a movie and enjoy a drink afterwards. It's the place where you can truly experience the authentic nightlife of Spokane. But downtown wasn't always the exciting, vibrant and diverse shopping experience it is today.

In the early 1990's, downtown Spokane was on the edge of decline. Armed with civic pride and determination to rebuild their city, civic leaders faced the challenge head on. In the summer of 1994, a plan to revitalize the downtown area and retain Nordstrom, The Bon Marche (Macy's) and dozens of other retailers was presented to the City. The plan started with complete redevelopment of River Park Square, the downtown shopping center open since the World's Fair.  By retaining Nordstrom as the anchor of the mall, other stores and businesses were encouraged to stay in the downtown area creating a thriving economy.
"The goal of redeveloping River Park Square was to create a central gathering place downtown where Spokane residents can meet and share a sense of community while enjoying unique shopping, dining and entertainment," said Elizabeth Mills, River Park Square marketing director. This is exactly what has been accomplished. Today it is the busy "intersection of everything" downtown, on any given weekend there are hundreds of people walking around and enjoying the nightlife around River Park Square.
The cool thing about River Park Square is that it offers a diverse variety of both nationally known stores as well as local stores that are unique to the Inland Northwest. River Park Square was designed in a way that sets it apart from other centers. "It is not the typical mall with harsh florescent lighting and cheap construction materials. Everything in River Park Square is designed to create a very special experience for guests," said Greg Birchell of BHW1, River Park Square's advertising agency.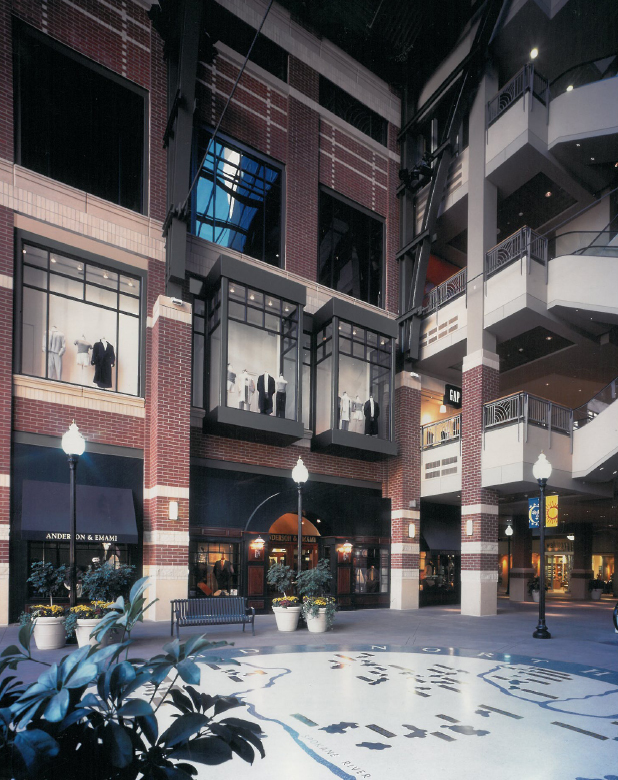 The idea was to create a "streetscape" atmosphere that is inviting and allows shoppers spend to spend hours shopping, eating, seeing a movie and enjoying every part of the whole experience. With more natural lighting, it feels like walking down a street not a mall. The décor includes street lamps, planters and benches and even making the individual stores look like they are outdoors. A refurbished historic façade adds to the authentic downtown feel.
Another feature distinctive to River Park Square is the atrium on the Main Street entrance. The open layout of the first floor in the atrium is the place where people gather and meet friends and family. The main floor is decorated with a beautiful map of lakes from all around the Inland Northwest. The inspiration for the floor came from an old fishing map. The lakes have become an icon of River Park Square and the center meeting place of downtown Spokane. So the next time you hear, "I'll meet you at the lakes," you know where to go.
Pictures courtesy of River Park Square and Greater Spokane Incorporated