OLYMPIA, Wash. – In a legislature that seems to see partisan attitudes impact progress on some issues, there is one area where bipartisanship is alive and well.
In discussions on higher education, state legislators in both branches and both parties are largely in agreement.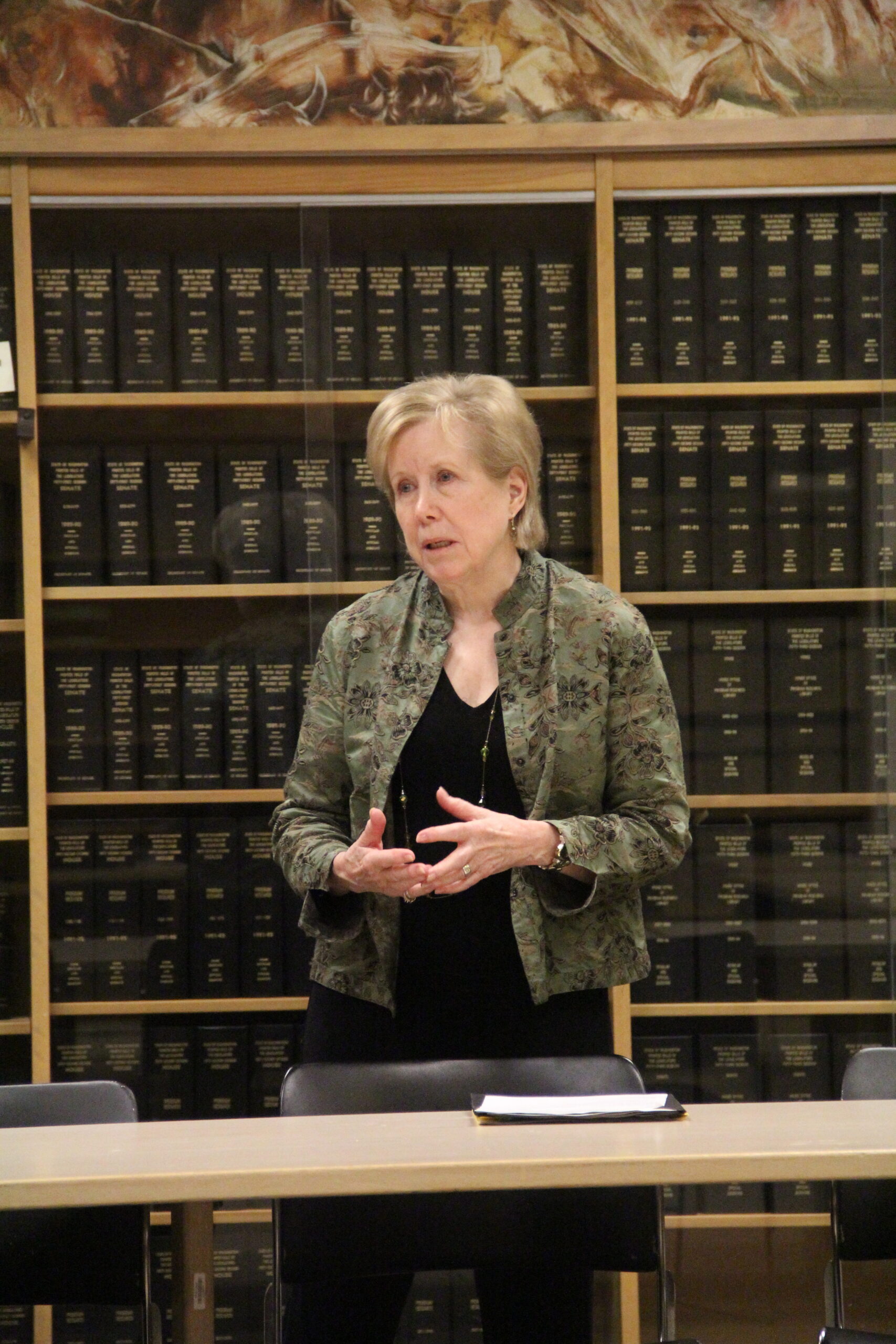 "We know the importance of higher education," Senator Jeanne Kohl-Welles (D – Seattle) told a delegation of nearly 90 Spokane-area business, education and community leaders Thursday. "It's something we usually find agreements on."
Last year, the legislature approved a zero dollar increase in tuition for the state's public colleges and universities.
"Many of us don't want a change to that (this year)," Kohl-Welles said.
The legislature definitely does not have an appetite for increasing tuition rates.
"When we increase tuition we will lose more young men and women who want to go to college," Representative Larry Haler (R – Richland) told the delegation.
Kohl-Welles said in a perfect world, the legislature would reduce tuition, but can't do that unless the state increases its funding for higher education, thereby, "making the universities whole." Representative Larry Seaquist (D – Gig Harbor) endorses an increase in state funds to lower tuition costs.
The higher education conversation Thursday shifted mostly to medical education in the Spokane area.
"I think we need to do more to prepare students for medical jobs," Kohl-Welles said. "Washington is the medical center for the northwest so we need to do more for that."
Health Care
The topics of health care and higher education meshed nicely as both meetings dealt with – among other things – medical education in Spokane, namely growing the amount of students studying in Spokane.
"We've been better at attracting medical students within the United States (to Spokane)," said Matthew Hollon of the Spokane County Medical Society. "The focus is to recruit people interested in primary care."
Hollon cited the growth of the WWAMI system in the area as a big catalyst to growing medical education locally.
WSU Spokane recently saw an increase in the amount of medical students in Spokane. The school currently has 40 students with plans to grow to 80 as soon as next year.
Growing first- and second-year medical students is one piece of the puzzle, and the state legislature has helped along the way. The other piece includes residency slots – the Graduate Medical Education (GME) portion of training doctors.
"Our per capita residency slots are among the lowest in the country," Hollon told legislators.
Residency slots are governed by the federal government, which put a cap on them in the late 90's. There are roughly 1,600 residency slots in all of Washington, but only 75 of those are in Eastern Washington.
Representative Joe Schmick (R – Colfax) and Senator Linda Evans Parlette (R – Wenatchee) listened as the Spokane delegation shared why more medical students and residency slots are needed.
An aging population and the Affordable Care Act (ACA) mean more people are in the market – especially in rural areas.
On the topic of the ACA, Sen. Parlette noted that a third of the nation's Medicaid sign-ups are from California, New York and Washington.
Asked why that is, Parlette said, "I think it's because of the huge outreach in the state."
Legislators agreed that it is still too soon to fully judge the ACA's impact, though Schmick said, "I do not see how this system is sustainable."
Delegation Meets Jay Inslee
Governor Jay Inslee took time out of his busy schedule to hang out with the Spokane delegation at a reception at the Governor's Mansion.
Inslee threw his support for a transportation package to complete the North Spokane Corridor – among other projects – and said he is working on bringing both parties and both chambers together to find a solution.
Inslee also praised Greater Spokane Incorporated's President and CEO Rich Hadley, who will be retiring later this spring.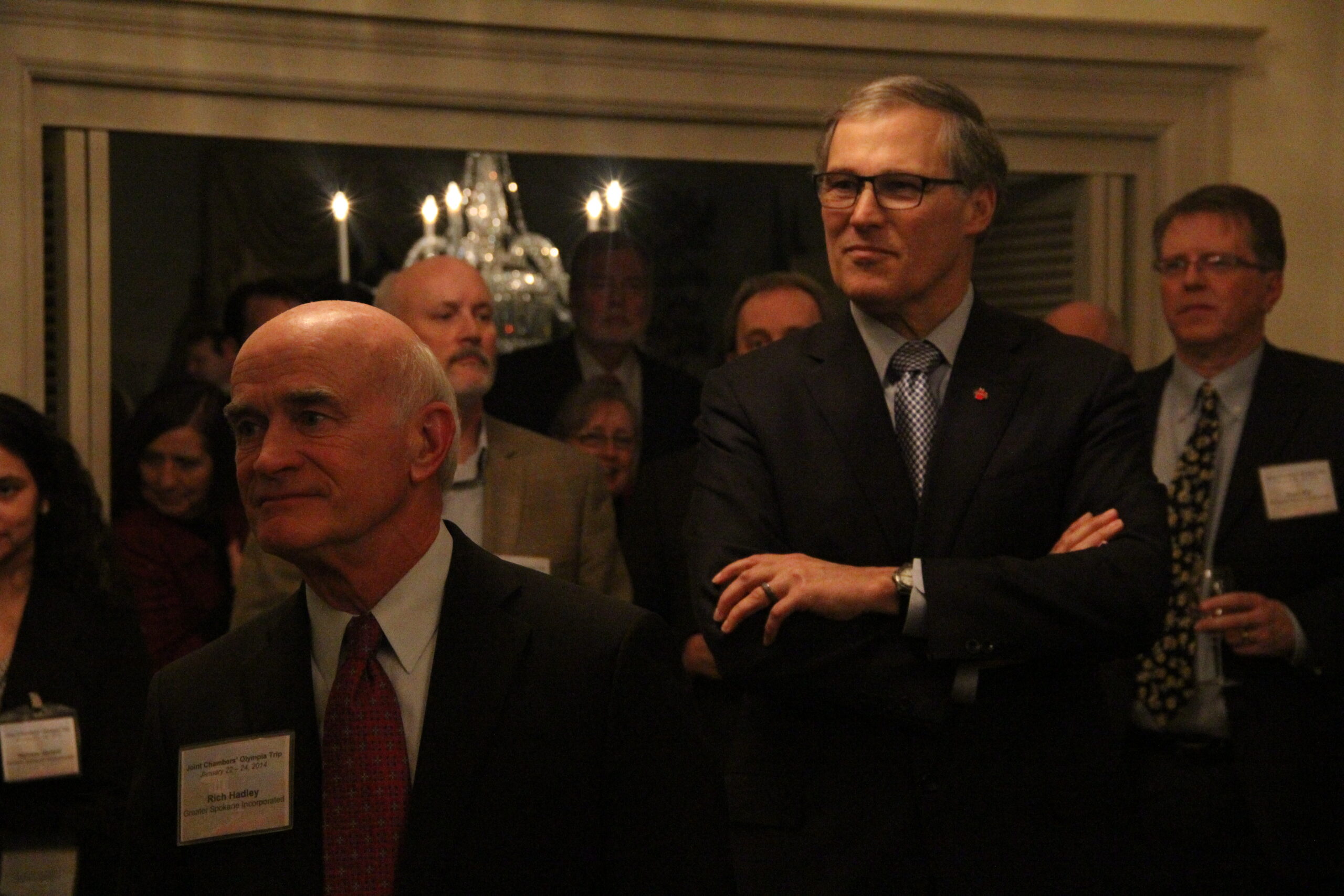 Photo-Op
What would an advocacy trip with almost 90 people be without a group photo?
Looking Ahead
The Spokane delegation will have breakfast with Lynn Ann Peterson, the Secretary of the Washington State Department of Transportation, Friday morning before flying back home.