2017 Relocation Guide Feature:
Lisa Shaffer, Ph.D., Founder & CEO of Genetic Veterinary Sciences (DBA Paw Print Genetics)
The 2017 Relocation Guide features our vibrant and innovative region, including the facts, flavor and faces of the Spokane community. Thanks to the Journal of Business for this great publication, to our writer Nicole Skinner and photographer Red Mammoth Studios.
We will be featuring over the new couple of months some of the people that call Spokane home. To pick up free copies of the guide, contact Nancy Vanni in our office at 509.321.3601 or nvanni@greaterspokane.org. 
Production of the 2018 Relocation Guide is also underway. Approximately 8,000 are distributed throughout the U.S. If you are interested in advertising, contact the Journal of Business at 456-5257.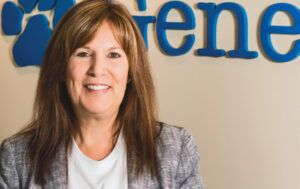 Lisa Shaffer, Ph.D., Founder & CEO of Genetic Veterinary Sciences (DBA Paw Print Genetics)
Hometown: Kennewick, Wash.
Place of Residence: Colbert
Occupation: Founder & CEO of Genetic Veterinary Sciences (DBA Paw Print Genetics)
Lisa Shaffer was no stranger to the Spokane area before relocating here in 2002. She attended Washington State University in Pullman, which wasn't far from her hometown in Kennewick. While in college she would visit the area and could envision living here, even owning some land.
Not too large and not too small, Spokane was the perfect size for Lisa and her husband. Work had taken them out of the area, but in 2001 the opportunity to relocate here materialized when Sacred Heart was looking to add another cytogeneticist to their team.
Spokane is the second largest medical center between Seattle and Minneapolis. With the addition of a children's hospital, plus all the medical education programs, Lisa says, "Spokane's growing healthcare and medical community was the perfect fit for my research program focusing on the chromosomal basis of inherited diseases."
Lisa also feels Spokane has a very business friendly environment. "People are very willing to help or point you in the right direction," she says. The business culture is perfect for starting a new business or relocating an existing one. She knows first-hand.
As founder and CEO of Genetic Veterinary Sciences, which includes the three brands Paw Print Genetics, Canine HealthCheck and Paw Print Pedigrees, Lisa and her staff provide inherited disease testing for dogs. Paw Print Genetics focuses mostly on purebred dogs for breeding, show or working dogs. The Canine HealthCheck is a genetic screen that can be done on any pet dog, no matter the breed.  She shares, "It is a great way to better understand the genetic health of your dog, purebred or mixed breed." Paw Print Pedigrees, a new social media platform, is a free resource that Paw Print Genetics customers can use to show off their health tested dogs.
While Spokane is a great place for healthcare and business, it's what the area has to offer outside of work that really completes the package. Lisa says, "My husband and I have always loved the area. We love the recreational opportunities here. There are great restaurants, entertainment such as concerts and the Best of Broadway Series." She echoes something those from bigger cities all enjoy, "And it's easy to get around here." Plus her family could have the space they wanted in Colbert. "We have a ranch with miniature horses, so I spend most of my free time at home with the horses and dogs," says Lisa.
Her favorite time of the year here is summer. She says, "For me, it is not too hot and the evenings are just wonderful. Unlike parts of the country that are humid, there is little humidity here. When the sun goes down, the air cools off and it is so nice just sitting outside on a summer's evening."