Dear GSI Members: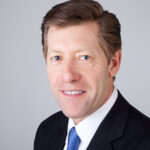 It is with mixed emotions that the Greater Spokane Incorporated (GSI) Board announced Tuesday that Steve Stevens submitted his resignation as GSI's President & CEO. Christine Johnson, GSI board chair said, "We are appreciative of Steve's many contributions over the past year and wish him all the best in his future endeavors."
Stevens commented, "Washington and Spokane have been a tremendous adventure for us and we have enjoyed the work, people and places we've been for the last year and a half. After returning home to Kentucky recently, however, it became apparent that we needed to be closer to our family who need us. We wish the GSI team great success in its next chapter. I am proud of what we've achieved over the past year and I know the organization is poised for a strong future."
With your help and support, GSI has made incredible strides this year for our community, including advancing one of the most successful legislative agendas in our region's history that brought $1.7 billion to our region for needed infrastructure, and funding for secondary and post-secondary education and local programs. Our economic development efforts landed 10 wins, creating more than 1,000 new jobs and $2 million dollars in new Spokane County taxes.  Among a large array of new initiatives undertaken, there has been a renewed focus to support our region's small businesses and business start-ups with new staff, programs and events.
The GSI board will initiate a search process for a new CEO in the coming weeks. In the interim, Alisha Benson, VP of Education and Workforce for GSI, will serve as Interim CEO, and Anne Marie Axworthy, Project Manager for GSI, will assist Alisha in that role. Current GSI initiatives, project work, committee and volunteer engagement, and support for our membership — your business — will continue throughout the search process.
We wish nothing but the best for Steve and his family and are very proud of the accomplishments that have taken place over the course of the year. If you have questions, please contact Susan White, Vice President, Administration. Thank you.