Business Barometer is a quarterly GSI publication that highlights significant economic indicators for the greater-Spokane region, as told by four local economists. The blog series contains eight posts; you're reading post #5.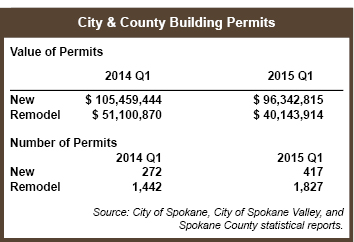 Permit numbers for the entire county were up 31% for the first quarter compared to the same period in 2014. Valuations, however, were down 13%.
This is due to a drop of 48% in permit valuations for the City of Spokane, despite an 18% increase in the number of permits, continuing the trend seen in fourth quarter.
To put this in perspective, first quarter valuations in 2015 are still 7.4% higher than in 2013.  This reflects the magnitude of permitting in 2014 for the Davenport Grand Hotel and the Convention Center expansion, and a return to a more expected level of construction activity in the City of Spokane.
The permitting news was entirely positive for the rest of the county.
The City of Spokane Valley had an impressive 40% increase in both permit numbers and valuations.
Unincorporated Spokane County had the greatest gain in permit valuations, 54%, while permit numbers were up 37%.
In looking at the types of construction, despite growth in the number of permits for both new construction and remodeling in the entire county, the valuation of new construction in first quarter was down 8.6% from the same period last year, and remodeling valuations were down 21%.
Avista Chief Economist Grant Forsyth said he is "seeing more activity in new retail and industrial permitting than in the past couple of years."
Steve Scranton, chief investment officer for Washington Trust Bank, was particularly impressed with the first-quarter growth in permit valuations in unincorporated Spokane County, which have tripled since 2012.