We're excited to announce the debut of two new GSI websites: GreaterSpokane.org and AdvantageSpokane.com to help better serve you as a member business and to position our community as a great place to do business. Big thanks to member Zipline Interactive for all of the guidance and work on two very large endeavors.
We hope that you find the GreaterSpokane.org website an asset for your business, helping you connect with others through our membership directory, engagement opportunities, member deals, job postings, staying up-to-date on the latest issues that impact your business, a new member login section and more.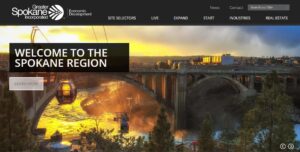 AdvantageSpokane.com is geared toward businesses, site selectors and individuals who are considering a move or expansion to our region. The site highlights the greater-Spokane area's quality of life, growth opportunities, real estate options and industry sectors. An area specifically for site selectors provides vital information about taxes, utilities, infrastructure, workforce and plenty of other information that helps make informed decisions about doing business in Spokane. With just a few clicks, you'll have access to infographics, major employer information, interactive demographics, real estate information, cost of living calculators and more.
If you haven't checked them out yet, take a look – and let us know what you think. This launch is just the start. We'll be adding features and fine-tuning pages. If you'd like to send us a comment about the new site please contact Maria Vandervert at mvandervert@greaterspokane.org. We are happy to provide assistance or troubleshooting.