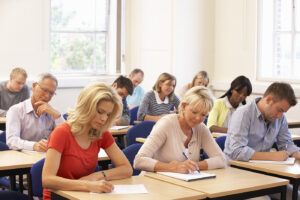 (Spokane, Wash.) – Greater Spokane Incorporated (GSI) has been named a recipient of the Association of Chamber of Commerce Executives (ACCE) 2015-16 Lumina Award for Education Attainment, a one-time $40,000 stimulus award to support the established efforts of chambers of commerce to grow the number of individuals in their communities with postsecondary degrees and other high-quality credentials.
"Greater Spokane Incorporated is proud to be a part of this critical nationwide movement to improve postsecondary outcomes," said Alisha Benson, Vice President of Education & Workforce and Executive Director of Spokane STEM. "With the leadership of our Board of Trustees, GSI is focusing on increasing the education attainment level of Spokane County from 40% to 60% by 2025, through an employer-led initiative. We understand that addressing education attainment issues is critical for our economic competitiveness and quality of life in the Spokane region. This award will help expand and deepen our work."
Strategic planning discussions, held in 2014, resulted in 10 employers agreeing to be a part of the pilot to help drive the initiative and look at how to engage some of the ~74,000 working adults in our region with some college but no degree. GSI commends the companies who've agreed to help.
Greater Spokane Incorporated is a proud member of ACCE, an organization established in 1914 to support and develop chamber of commerce professionals to lead businesses and their communities. ACCE's Education Attainment Division (EAD) convenes and connects an extensive peer network of chamber professionals to share resources and expertise on improving cradle to career education outcomes within their communities. For more information about ACCE's Education Attainment Division, visit ACCE.org
The Lumina Foundation is an independent, private foundation committed to increasing the proportion of Americans with high-quality degrees, certificates and other credentials to 60 percent by 2025. Lumina's outcomes-based approach focuses on helping to design and build an accessible, responsive and accountable higher education system while fostering a national sense of urgency for action to achieve Goal 2025. For more information, visit LuminaFoundation.org.
Four other organizations were named 2015-16 award recipients: Dayton Area Chamber of Commerce; Detroit Regional Chamber; San Antonio Chamber of Commerce; and St. Louis Regional Chamber. This group is the second cohort of a multi-year awards program to accelerate previously defined regional attainment goals. All five chambers were selected from a highly competitive pool of applicants that demonstrated momentum in setting education attainment agendas and establishing innovative post-secondary attainment strategies.