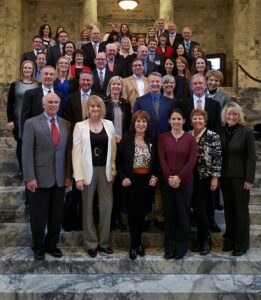 After a busy, successful fly-in, we're back at it in the 509 with renewed focus. Before we move forward, however, we want to give you a quick wrap-up of the final events we participated in while over in Olympia …
Last Thursday evening Governor Inslee opened the Executive Mansion to our group for the annual Grand Reception. The Governor shared his insights – with our delegation as well as several legislators and other elected officials in attendance – about the future of our state, and the important part our work plays in the continued building of a vibrant economy. He gave props to the greater-Spokane community for stepping up to the plate and working together to bring in the funding for the North Spokane Corridor, and also for championing the work that brought the WSU Medical School and UW WWAMI Program to Spokane.
Friday morning the group was lucky enough to attend an early breakfast with Washington State Supreme Court Chief Justice Barbara Madsen, and Justice Debra Stephens. Both speakers provided fascinating insight into how the Supreme Court operates. They explained that they are currently starting their winter court session, during which they will hear about eight to 10 cases each week, which equates to roughly 10% of all the cases they receive each session. Often the cases that are heard at this level are ones claiming an unconstitutional action, and quite often they preside over appeals for death penalty cases. While some may think that this branch of government is overreaching traditional sector boundaries, Justice Stephens commentated that the checks and balances that exist within our three branches are there so that each sector can push boundaries and continue to adapt with society.
As the group headed home Friday afternoon, we came with an interesting question: How do we continue to push boundaries and adapt in order to create something greater?
Without the continued engagement and energy provided by our amazing delegation of 80-something business, education, health sciences and community leaders this trip wouldn't happen! In addition to being grateful for their continued involvement, we thank all of the legislators and esteemed speakers who took time from their incredibly busy days to listen to our concerns and ideas, and share their insights about what to expect during this legislative session, and beyond!
Governor Jay Inslee
Chief Justice Barbara Madsen | Washington State Supreme Court
Justice Debra Stephens | Washington State Supreme Court
David Schumacher, Director | Office of Financial Management
Senator Michael Baumgartner (R-Spokane)
Representative Larry Springer (D-Kirkland)
Representative Matt Manweller (R-Ellensburg)
Senator Doug Ericksen (R-Bellingham)
Representative Joe Fitzgibbon (D-Seattle)
Representative Matt Shea (R-Spokane Valley)
Senator Randi Becker (R-Eatonville)
Senator Cy Habib (D-Bellevue)
Representative Marcus Riccelli (D-Spokane)
Representative Joe Schmick (R-Colfax)
Senator Andy Billig (D-Spokane)
Senator Steve Litzow (R-Mercer Island)
Representative Bob McCaslin (R-Spokane)
Representative Chris Reykdal (D-Olympia)
Speaker of the House Frank Chopp (D-Seattle)
Senate Majority Leader Mark Schoesler (R-Ritzville)
Senator Sharon Nelson (D-Seattle)
Representative Shelly Short (R-Addy)
Also we thank our sponsors for their generous support:
And to our Joint Chambers' Fly-in partners who join us in our quest to create something greater for the greater-Spokane region