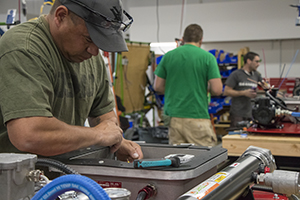 For the past 75 years, Hotstart has helped businesses heat engines throughout the U.S. working with companies like Caterpillar and Cummins. Today, Hotstart is taking on additional business by expanding into target markets overseas, which, along with increased sales opportunities, has brought many new internal developments.
After taking its first steps in international commerce several years ago, 25 percent of the company's business comes from foreign markets. While Hotstart has seen increased revenue, the benefits of international trade extend far beyond any financial return.
International trade as part of Hotstart's portfolio has made positive contributions in the number of jobs available at the company, and has increased innovations and critical thinking strategies to solve customers' requests. It even allowed the company to add new product lines for marine, generator and natural gas solutions.
In addition to exporting products from Spokane, Hotstart imports key parts from foreign manufacturers, due to their quality and price point. Hotstart Marketing Communications Specialist Leslie Czernik says Grundfos pumps, made in Denmark, have a quality and price point that enables Hotstart to provide the best final product possible.
Becoming a player in the international markets didn't happen overnight. It took research, knowing the market and having the right people in place before Hotstart made its move.
Hotstart worked with the U.S. Dept. of Commerce for market research to see what potential there was in different regions of the world. Based on that report, the company decided it was worth the investment and formed the outline of what international commerce could look like. The company also worked with the Dept. of Commerce using their Gold Key Service to have meetings set up with target prospects overseas.
The company's vision moved forward into two key markets, Germany in 2009 and Japan in 2011. Today, both locations are led by Mitsuomi Nakamura, Managing Director Hotstart Europe and Asia Pacific. Nakamura started with Hotstart in 2004 and spent several years in Spokane immersed in the company's culture before moving to Tokyo to open Hotstart Asia Pacific. Hotstart's international efforts are an extension of their commitment to being closer to the customer. Nakamura and the teams in both international offices are setting the pace for the company's work in foreign markets.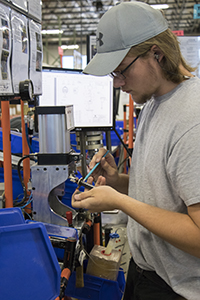 "Mits is in the right position to lead this effort, and it's his vision that's driving this," said Czernik.
Already being known for their quality work opened doors for Hotstart with overseas branches of companies. It was easy for Rolls Royce, Komatsu, Mitsubishi and others to work with the company as it stretched its legs into new markets. But, adjusting to new markets wasn't always easygoing.
"Being in Spokane, it is tougher to ship things," said Czernik. "Marine and oil heaters are heavy and bulky, adding cost to send international shipments from Spokane."
Additionally, some regions throughout the world sometimes require products to be sourced locally, or have a certain percentage of parts available from the domestic market.
Lena Martin, Sales – Latin America, works with customers in Latin America and Spanish-speaking countries in Europe. One business needed parts available locally to avoid the wait times associated with importing products. Hotstart wasn't able to open a distribution center in that country so Martin currently works with a filtration system company in that region to represent several different Hotstart product lines to be "local" in the country.
"Sometimes you have to be creative and look at other options to see how you can drum up more business," Martin said. "We do that kind of thinking, networking and relationship building every day."
Other challenges of engaging in international trade include building to different environmental requirements, depending on weather extremes. Hotstart can customize orders for customers to meet specifications including paint color, IP rating and temperature rating, among others.
"We're able to customize our products in a way that doesn't necessarily impact how we operate here in the building," Czernik said. "Our production lines are very well supported by our manufacturing engineers and our design engineers."
After 75 years of innovation, quality, and invaluable customer service, Hotstart continues to make waves in its industry. The company remains committed to being headquartered and doing business in our region while exploring options to increase distribution opportunities overseas.
Thanks to foreign markets and a demand for high-quality engine heaters across the globe, there is a Hotstart office open around the world at any given time.
Do you want to learn more about international trade? See how GSI can help your business at GreaterSpokane.org/international-trade or contact Drew Repp, International Trade & Economic Development Manager, at 509-321-3634.