Spokane economy is firing on all cylinders
"It was a very solid year for Spokane's economy," says Steve Scranton, chief investment officer for Washington Trust Bank."All the indicators were strong. It was the best year we've had since 2006. Everything was firing on all cylinders," says Avista Chief Economist Grant Forsyth.
"Even before posting a strong fourth quarter, the Spokane Metro area was heading for one of its best annual performances in recent memory in 2015," says Shaun O'L. Higgins, managing principal of The Oxalis Group LLC, and a longtime observer of the regional economy. "And, despite market jitters and problems in the world economy, I expect things to remain on a steadily upward course here in 2016."
Real Estate returns to pre-recession trends
"Home sales and prices were up – indeed they leaped – for both the quarter and the year," says Higgins. "It was particularly heartening to see a 6% year-over-year jump in fourth quarter unit sales."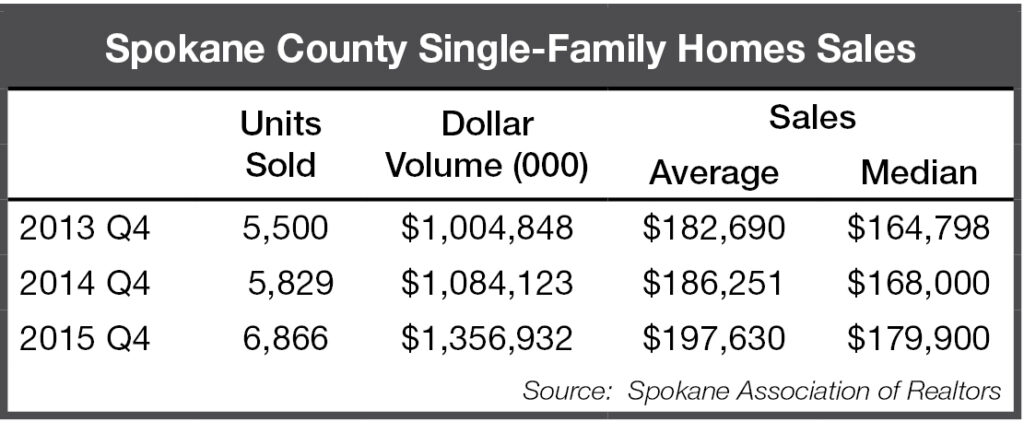 Unit sales were up nearly 18% while sales volume increased 25% for year-end 2015 compared to 2014. The average sales price increased 6.1% and the median sales price rose 7.1%.
Forsyth says, "If you look at the trend in home prices prior to the bubble and then draw the line out in time, ignoring the bubble, we are seeing the same trend line we had prior to the recession. There seems to be a great deal of optimism in all areas of real estate –residential, commercial and industrial."
"It was a very good year for the housing market," says Scranton, but he cautions that these sales rates are not sustainable.
"We have just used up a lot of our inventory and we are now down to about four-and-a-half months of inventory, which is a concern to area realtors. The lower inventory of available homes applies upward pressure to prices, which is good for the sellers, but not for buyers, particularly first-time home buyers.
According to Forsyth, builders say new home construction has not returned to pre-recession levels, but with the new lending requirements, he does not believe that level will be easily reached again.
Good employment news abounds
Reminder: We are now using the CES database for employment because it is benchmarked with payroll data that covers a majority of businesses and has very little adjustment over time. We continue, however, to use the LAUS database for unemployment figures since this is not included in the CES database.
"At year end, more than 6,700 jobs had been added to MSA payrolls, while the area's unemployment rate had dropped by more than a percent," says Higgins.
"There was significant job growth throughout the year, particularly in the final three quarters of 2015," says Doug Tweedy, regional economist, Washington State Labor Market & Economic Analysis. "Job openings reached historic peaks, while unemployment hit a seven-year low, and the number of initial claims for unemployment (layoffs) were at a 10-year low."
Year-end unemployment was 6.7%, compared to 7.4% in 2014 and 8.4% in 2013.
"This is the best employment picture we've seen since 2006," says Forsyth, "with unemployment rates that I consider more normal for the region. In Kootenai County, unemployment is so low it is getting hard to find qualified applicants. Their unemployment rate is hovering in the high 4% to low 5% range."
"We've had two years of solid job growth across all industries, with the hot spots last year being in education, professionals and business, and health services – which all tend to have jobs that pay above average and continue to lay a good foundation for the future," says Tweedy.
The new medical schools and university district were credited with adding higher paying jobs in 2015. "These positions include not only the faculty and staff at the colleges, but also scientists and others who are part of the biotechnology industries that are attracted by the presence of the medical schools," says Scranton.
"What is particularly good news is that 92% of Spokane's job growth in the past two years has been in the private sector," says Tweedy.
Higgins notes, "In 2015, the Spokane Metro area, which includes Spokane, Pend Oreille and Stevens counties, grew jobs at a faster rate than the U.S., though not quite as fast as Washington state as a whole. It was the best job-growth number in five years and, at 2.9%, well ahead of the national job-growth rate of 1.7%."
Scranton points out "in Spokane and Washington state we have continued to see improving job growth while the U.S. has been largely stagnant." He says not to worry that Spokane's job growth and unemployment is lagging the states' "because Puget Sound is a huge distortion for the state as a whole. Spokane is seeing good solid job growth, particularly when you remember that in 2011 it was .2% and it has steadily improved to 2.9% in 2015."
"The labor market has tightened considerably this year," says Forsyth, "so what I'm hoping is this is starting to signal some upward pressure on wages since we have not seen any appreciable wage increases for a long time."
"Not even the historic windstorm in November could stop the job growth," says Tweedy. "In fact, the windstorm actually created more jobs than were lost, so it had a much less negative impact on employment than anticipated."
Higgins adds, "The Spokane Metropolitan Statistical Area was recently ranked 47th among the nation's 364 MSAs (Metropolitan Statistical Areas) in terms of job-growth rate based on a 12-month moving average," (by the Job Growth Update, published in association with JPMorgan by the W.P. Carey School of Business at Arizona State University).
"We have seen slow population growth the past couple of years in Spokane, but we expect to see accelerated growth because we are a regional hub and our job openings will attract people from across Eastern Washington and North Idaho," says Tweedy.
Retail sales remain higher than wage growth
Reminder: Sales tax reporting lags one quarter behind other indicators.
"Inflation has remained extremely low," says Higgins, "and low prices for fossil-based fuels gave the consumer economy a collective boost, both locally and nationally. Locally that meant about a $300-million jump in retail sales, a 7.3% increase over 2014. When all taxable sales are included, the increase remains an impressive 5.5%."

Scranton echoes Higgins and notes that home-owning consumers experience a positive psychological effect knowing their homes are worth more. "Even with the volatility in the stock market, consumer confidence remains strong, and even though wage growth has been modest, they are still seeing some increases in their paychecks."
Scranton and Forsyth continue to caution that auto sales, which have been a substantial part of retail sales increases over the past few years, are bound to slow down when zero-percent financing goes away and consumers have finished replacing older cars they kept through the recession.
"While the third quarter taxable sales figures are healthy," says Forsyth, "they are lower than the year-end numbers, 6% compared to 7.3% for retail sales, and 4% compared to 5.5% for total sales. These may be early signals that taxable sales are cooling off a bit. We are seeing a little slower economic growth than had been originally forecast, so we may be starting to see some softness in retail sales growth – a realignment with wage growth."
Higgins remains optimistic. "We have heard a lot of talk recently about many large national retailers – particularly those that are apparel-centric – having performed poorly last year, and in the 4th quarter in particular. Several, including Macy's, have announced store closures and layoffs. While some individual companies may be struggling with both their physical store sales and their online strategies, the Spokane numbers indicate that the overall retail picture remained positive here. And, with inflation well in hand, the gains here are real, stemming from growth in population, employment and wages."
Very healthy permitting activity
For overall Spokane County, permit numbers increased almost 7.2%, while valuations were up 14% for year-end 2015 compared to 2014.
Unincorporated Spokane County had a 7.6% increase in the number of permits with an impressive 37% increase in valuations.
Permits in the City of Spokane Valley rose 9.2%, but valuations dropped nearly 10%.
The City of Spokane experienced a 5% increase in the number of permits and a 5.7% increase in valuations.
When comparing permitting activity in different areas of the county, Scranton says it is important to keep in mind that the City of Spokane is a more mature market and has less land available than the Spokane Valley or Unincorporated Spokane County. "That's why there are more remodeling permits for the City of Spokane than for other parts of the county."
"I prefer single-digit growth to the double-digit numbers we are seeing elsewhere because it is more sustainable," says Scranton, who characterized permitting activity as "solid."
Higgins notes, "In the fourth quarter there was a greater percentage gain in permits and valuations relating to remodeling than for new construction. This was possibly due to permits issued following the damaging windstorm that wreaked havoc on the area in November.
"In December 2015, a total of 271 remodeling permits were issued with average valuation of $70,714 each, compared to December 2014, when only 157 remodeling permits were issued at an average valuation of $35,596. Whatever the reason, significantly more folks were spending lots more on remodeling at yearend 2015 than yearend 2014. I suspect we'll see this trend continuing into first quarter 2016."
Scranton notes that Class A office space in downtown Spokane is becoming scarce and there is currently remodeling of Class B office space to bring more inventory online. Also, as home prices rise, current homeowners become more likely to remodel rather than buying a new home. These two trends are likely to have influenced the increase in remodeling permits.
Strong numbers for the airport
Cargo volume for year-end was up 7%, and 7.5% for fourth quarter.
Passenger totals were up 5% for year-end 2015 over 2014, while fourth quarter increased 4.5%. The trend of carriers flying larger planes with more seats and fewer aircraft operations continued. However, year-end operations rose 1.7% from last year.

"We remain on a positive trend line regarding the capacity that our airline partners are placing into the Spokane/Coeur d'Alene market," says Todd Woodard, director of marketing and public affairs, Spokane International Airport.
"Our market is scheduled to have more seats for sale in 2016, which typically translates into increased passenger totals. In addition, the seasonal nonstop service to Chicago Midway on Southwest Airlines will be returning in June. There is strong demand for eastbound access, particularly in the summer months, and Southwest has recognized this by putting in seasonal service for the third year in a row."
"Also, for the first time, there will be a weekly nonstop seasonal flight to Anchorage each Saturday on Alaska Airlines starting in June. There is significant demand for this service as last year 35,000 people flew to Anchorage from our market."
With increased passenger totals, Woodard cautions that TSA checkpoints are experiencing somewhat longer wait times and this will increase during spring breaks for the area colleges and schools. "You should budget a little extra time for getting to the gate here at Spokane Internat
ional Airport and also plan extra time on your return trips through major hub airports."
Energy prices push down CPI
The Consumer Price
Index (CPI) for 2015 was 0.41%, compared to 1.32% in 2014. For the fourth quarter, it was 0.51% compared to 0.65%, year-over-year.
"At this point, there are no real concerns about the CPI from the Federal Reserve's viewpoint," says Forsyth. "Energy prices have been pushing down the CPI and I don't expect a rapid rise in energy prices in the next 12 months."
According to Scranton, it is important to note that core inflation, excluding oil, is running in the 2-to-2½-percent range.
Higgins says, "I will be closely monitoring any future rate hikes by the Federal Reserve, the prospects for which have dimmed substantially in recent weeks."
Closing thoughts
Doug Tweedy: We expect, due to the decline in initial unemployment claims, that Spokane's 6.7% unemployment in 2015 will drop to between 5% and 5.5% in 2016. In addition, average wages will continue to rise due to the types of jobs being added.
Steve Scranton: I will be keeping an eye on the lack of inventory in the housing market and its effect on prices in 2016. If you compare last year's home price increases of 6 to 7% with our wage growth of 2-to-2½ percent, it raises concerns about housing affordability.
Grant Forsyth: Services such as Startup Spokane, a new workspace for entrepreneurs and solo workers in downtown Spokane, and a program of GSI, signals that the economic development environment in Spokane is thriving. Another indicator is the absolutely packed early morning flights from Spokane to Seattle and Portland and return flights in the late afternoon and evening.
Shaun Higgins: I will be closely monitoring the local impact of the strong dollar on the regional agricultural sector, on other exporters, and on firms (particularly in the travel and hospitality sector) that benefit from Canadian expenditures this side of the border.
The Spokane Regional Business Barometer is a quarterly publication written by Debbie Rauen of Legendary Hills Communications, highlighting the Spokane economy and local economic trends. Data for the publication is assembled by the Eastern Washington University Institute for Public Policy and Economic Analysis.