2016 Relocation Guide Feature:
Regina Malveaux, J.D., CEO, YWCA of Spokane
The 2016 Relocation Guide features our vibrant and innovative region, including the facts, flavor and faces of the Spokane community. Thanks to the Journal of Business for this great publication, to our writer Mariesa Stokes and photographer Red Mammoth Studios.
We will be featuring over the new couple of months some of the people that call Spokane home. To pick up free copies of the guide, contact Nancy Vanni in our office at 509.321.3601 or nvanni@greaterspokane.org. Visit the online Relocation Guide at MovetoSpokane.com. 
Production of the 2017 Relocation Guide is also underway. Approximately 8,000 are distributed throughout the U.S. If you are interested in advertising, contact the Journal of Business at 456-5257.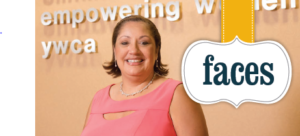 Regina Malveaux, J.D., CEO, YWCA of Spokane
Hometown: San Diego, CA
Place of Residence: Cannon Hill
Occupation: CEO, YWCA of Spokane
Regina Malveaux says what brought her to Spokane was the extraordinary opportunity to be the new leader of the YWCA. When she made the cross-country move here three years ago, she had no idea she'd also find a delightful town with exceptional people, a great cost of living and a refreshing place.
The CEO of the YWCA of Spokane has lived in many places San Diego, Casper, Wyoming, Huntsville, Alabama, Washington, DC and Norfolk, Virginia to name a few. When she got to Spokane she was embraced in a way unlike anywhere else.
"Not only did I receive an exceptionally warm welcome from women leaders in the community," she said, "but several women in the African American community, whom I'd never met, threw me a housewarming party- at my house! The exceptional extensions of kindness made moving to a new city alone feel much less onerous. I felt at home and a part of the community almost immediately."
Malveaux was initially attracted to Spokane because of the mix of particular programs at this YWCA. It offers safe shelter, counseling and legal services to women in the community. But it also has an entire department dedicated to helping women gain and re-gain economic self-sufficiency- something that empowers many to leave unsafe relationships. In the three years she's been here, Malveaux has helped open the Spokane Family Justice Center at the YWCA and has received Gonzaga University's prestigious Myra Bradwell Award, which honors a woman in the law who has made a difference in the lives of women and children.
"Since I've been in Spokane, I've had the opportunity to be part of the important work going on here. I have found that decision makers at the top levels of civic and government organizations are eager to get input from all sectors of the community. Everyone is working together to make better informed policy decisions that make Spokane a better place to live."
But it's not all work- the more relaxed pace of Spokane means Regina still finds some time to play.
"A lot of people are enamored with the outdoor activities that Spokane affords, but I'm a more leisurely person in my spare time," she said, laughing. "I have found I particularly enjoy being a guest of friends with lake cabins or stealing away for an afternoon at La Rive Spa at Northern Quest Resort. La Rive rivals any other four-star spa I've experienced anywhere."
It's not a lake cabin, but Regina's home is still perfect for a cozy weekend respite. She says her neighborhood and her adorable 1920's bungalow were part of the attraction to move to Spokane.
"The neighborhood is full of beautiful trees, quaint homes and very friendly neighbors. Traffic in Spokane is like a walk in the park- people here often joke that you can get anywhere in the area in 15 minutes. For her, the daily commute is even less than that.
"I am a mere two miles from my downtown office. After living in both Southern California and Washington, DC where commutes can literally take up hours of your day, this is exhilarating!"