Tweet
Updated – June 2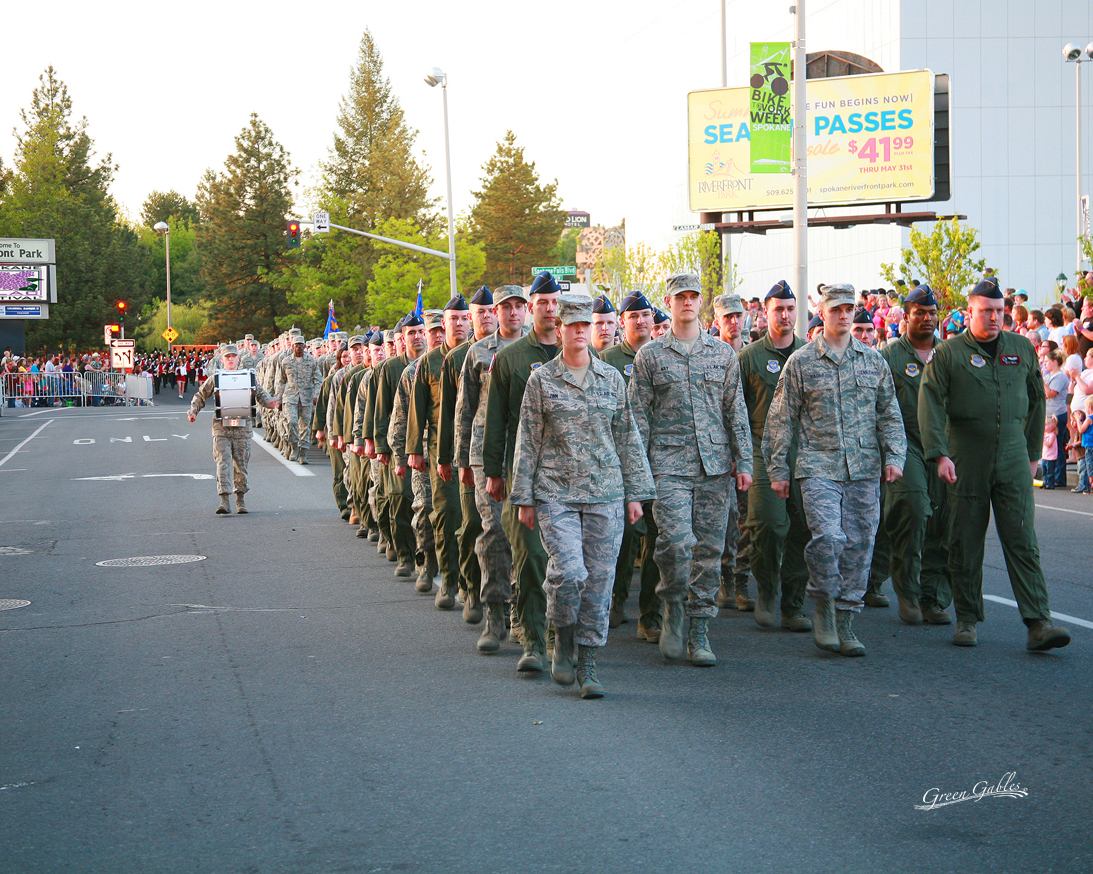 How many of your coworkers are military veterans? Do you know off the top of your head, or would you need to ask around?
While the number of employed veterans in Spokane County (and even the state) is difficult to track, it's been said that almost nine percent of businesses in the state are veteran-owned. With the Armed Forces Torchlight Parade this Saturday, we thought it'd be a nice idea to explore the ways we support our military, not the least of which is hiring veterans.
Haskins Steel Co. in Spokane is a big supporter of our veterans. Currently, it has 12 veterans on staff and two who are in the reserve. Craig Dias, Vice President at Haskins Steel Co., said at a Greater Spokane Incorporated Armed Services Committee meeting that he feels it is the company's duty to hire veterans. It's the patriotic thing to do, and Dias likes hiring veterans because they work hard, are loyal, dependable, and have many other traits that an employer seeks.
Haskins Steel and many other companies also keep a position open if an employee is deployed, so that an employee can retain their job when they return. Since the employee is making the ultimate sacrifice, it's nice the employer sacrifices as well, all for the good of the employee and the employee's family.
WorkSource Spokane is a great resource for veterans seeking employment. The organization connects veterans with businesses looking to hire.
Of course, when one thinks of Spokane and the military, they immediately think of Fairchild Air Force Base, the region's top employer. So many of the military men and women are among us each day and we may not be fully aware of it. Many of the retired are among us as well.
Fairchild has a rich history in Spokane. Back in the 1940's, the U.S. was looking for a location for another air depot. It looked in the Seattle – Tacoma area, as well as Spokane. The asking price at the time was about $10,000. The Spokane Chamber of Commerce (what is now Greater Spokane Incorporated) raised $5,000. The city and county raised the other $5,000 to secure the land that is now Fairchild Air Force Base.
So how do you and your business support our military? Tell us here – we'd like to know!
Thank those employees who are veterans. Sacrifice for them because they sacrificed for you.
And we'll see you at the parade.
Other Resources:
Operation Spokane Heroes – Serves the military and their families.
Photos from past Armed Forces Torchlight Parades (courtesy of The Spokesman-Review)
Update: GSI's Sandra Jarrard, Haskin Steel's Craig Dias, and Tom MacKenzie, chair of GSI's Armed Services Committee, recently went on the Mike Fitzsimmons show on KXLY AM 920 to talk about employing veterans. Listen to their interview here.