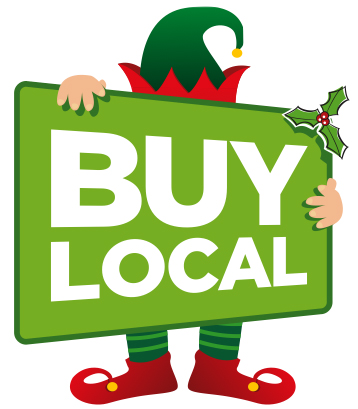 Black Friday and Small Business Saturday have passed. Yesterday was Cyber Monday. From here on out, let's have everyday be Buy Local Day. Sound good?
By now, you may have heard our message: Buying locally keeps our economy moving. Money spent locally circulates through our community, helping our economy. It's simple.
So let's see how you can help our local economy this holiday season.
Here's what you do: Go out shopping this Saturday for a nice Christmas gift at, say, Finders Keepers. Buy three gifts, which gives money to that business. That business then pays its employees for their hard work.
Those employees put some of that money in their local bank, like Sterling Savings. They then go out and buy Christmas gifts for their friends, family and foes at, say, Simply Northwest. Employees there use the money they make and end their day hanging out at Rocket Bakery.
MOJO then makes enough money and decides to buy advertising space on the outfield wall at Avista Stadium and contacts The Spokane Indians Baseball Club. The Indians use the advertising money from MOJO to hire more employees.
Those employees – many high school and college students – need a way to get to the ballpark each night. So what local business should they turn to?
Knowing you began this great flow of money throughout our community is reason to celebrate with some Single Malt Whiskey from local distillery, Dry Fly Distilling.
The above scenario could involve thousands of more local businesses in Spokane. It's pretty much fill-in-the-blank when it comes to buying locally.
Plus, it beats sitting in front of a computer all day and worrying about delivery times, don't you think?
Note to businesses: The Journal of Business is offering a discounted rate for advertising featuring the Buy Local Logo. See the offer.