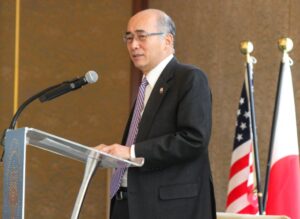 As part of this year's joint chamber fly-in, our delegation was honored to be hosted at the residence of Japan Ambassador Kenichiro Sasae.  The evening included remarks from the Ambassador on the longstanding relationship between the Spokane region and Japan, including the deep Nishinomiya Sister City relationship and the 12,000 Japanese students who have studied at Mukogowa Fort Wright Institute. He thanked the 5,000 Spokane families that have welcomed them into their homes. Mr. Sasae also spoke fondly of his time spent with Congressman Thomas Foley, who after representing the 5th District of Washington, served as the 25th U.S. Ambassador to Japan from 1997 – 2001.
Congresswoman McMorris Rodgers also joined the evening's activities and gave remarks on the importance of a continued trade and cultural exchange with Japan.
Remarks by the Ambassador and Congresswoman were followed by a panel discussion on trade opportunities between the Spokane region and Japan. CEO Todd Mielke moderated the panel which included:
– Kanji Yamanouchi, Minister of Economic Affairs at the Embassy of Japan
– Ken Kuribayashi, Vice President & General Manager, Washington Office, Sojitz Corporation of America
– Jay Allert, President of Aslin-Finch Company and Chair of GSI's AgriBusiness Council
– Larry Krauter, CEO Spokane Airports
A reception followed the panel, with the delegation having the opportunity to network with business representatives from Japanese firms. Represented companies included Mitsubishi Heavy Industries America Inc., Toshiba America Inc., Tokyo Electric Power Company, Fuji Television Network, and many more. Prominent Washington businesses with a heavy presence in Japan, such as Amazon and Expedia also attended.
Special guests for the evening included Rep. Rick Larsen (D-WA2) and Ms. Elizabeth Foley, wife of late Congressman Foley.
Read D.C. Blog 1: Spokane Region Delegation Lands in D.C., and Day 2: Advocacy and Connections.
Regional Fly-In partners include Greater Spokane Valley Chamber of Commerce and West Plains Chamber of Commerce. The Grand Reception is sponsored by Asuris Northwest Health, the DC Luncheon is sponsored by University of Washington, and the Mobile App is Co-Sponsored by Washington State University and Washington State University Spokane. The Chief of Staff Breakfast is sponsored by Umpqua Bank.
Follow the trip with #509dcflyin and #CreateSomethingGreater; read updates on GSI's Twitter feed @GreaterSpokane, and read wrap-ups here on the blog.