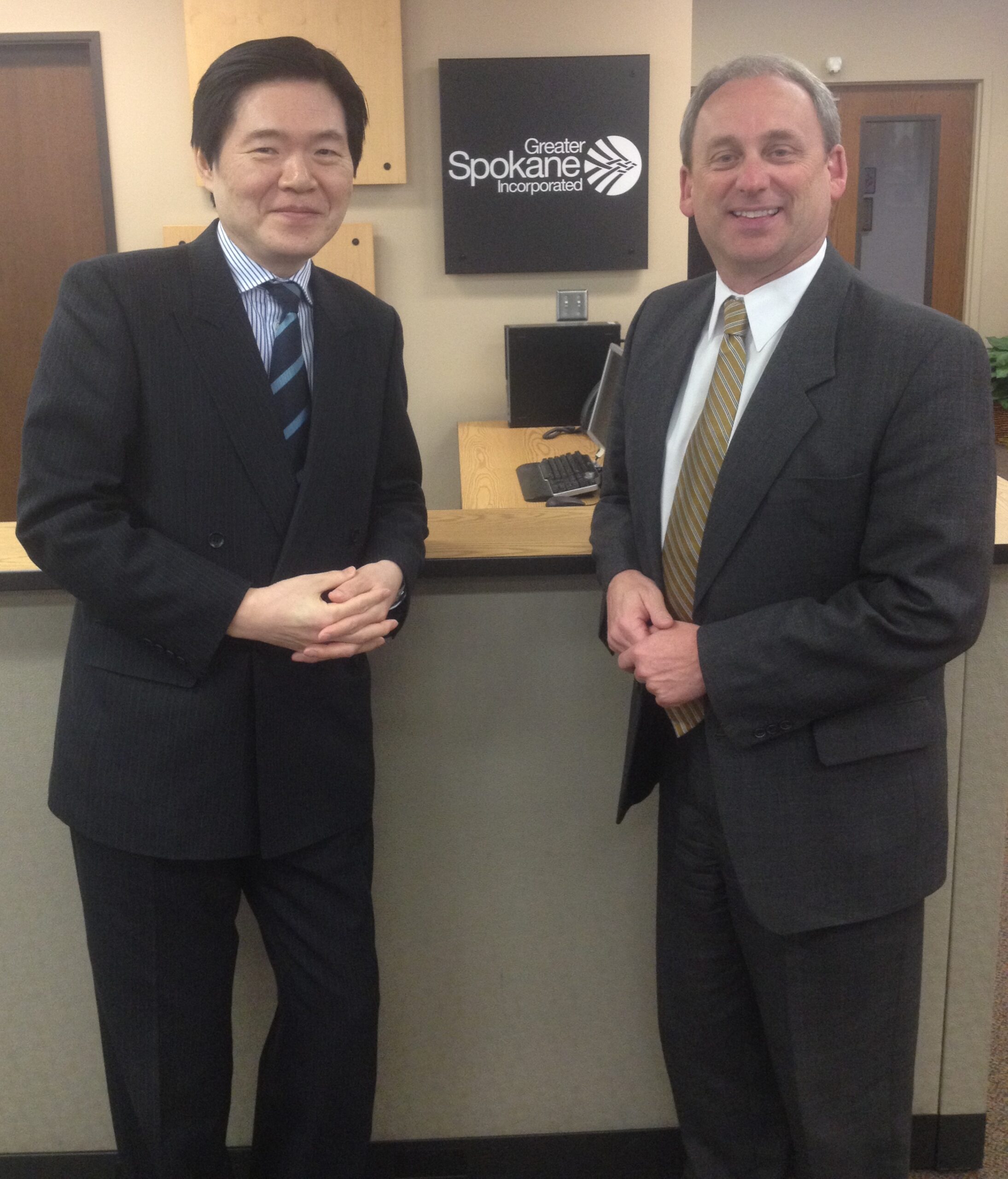 On March 7th,  GSI was pleased to welcome Consul General Masahiro Omura from the Consulate-General of Japan in Seattle. GSI CEO Todd Mielke and Mr. Omura discussed the economic ties between Japan and our region, as well as the state as a whole. In addition to trade, the relationship between Japan and eastern Washington includes deep and long standing ties in education, as well as arts and culture.
Japan is the third largest destination for eastern Washington goods, with $472 million worth of products going to the country in 2013. Additionally, more than $65 million worth of services were exported to Japan that same year. And Washington state as a whole imported $6.9 billion worth of goods and services from Japanese companies in 2014. Japan is a top five trading partner for both Washington state and Spokane.
In addition to trade, Japan and eastern Washington share similar industry sector strengths, presenting opportunities for further business collaboration and supply chain connections. Of particular note is the growing aerospace industry in each market. Aircraft products and parts are the top export for the Spokane metro area ($373 million in 2014), while a number of Japanese companies are world leaders in aerospace production.
Of equal significance is the kinship which has been forged between Spokane and Japan over many decades, beginning with the establishment of a Sister City relationship with Nishinomiya in 1961. This was the first of Spokane's five Sister City relationships and has resulted in multiple student exchanges, delegations, and meetings of mayors and council members.
A unique and celebrated component of the Spokane region's educational offerings is the Mukogawa Fort Wright Institute (MFWI) which was started in 1990 as a branch of the Mukogawa Women's University. Since that time, over 10,000 students have studied in Spokane at MFWI, giving them an opportunity for an immersion in English and the American life-style through their home-stay with local families. MFWI also houses the Japanese Cultural Center.
In an effort to facilitate foreign business opportunities, GSI's international trade program seeks to establish and expand international trade relations. You can learn more about these efforts and our international trade program here.