By Joey Gunning, Strategic Growth Manager, Greater Spokane Inc.
"We are on the cusp of unprecedented change." Those were the words of Lightcast CEO, Chris Kibarian, during the opening address of the 2023 Lightcast Connect Conference in Coeur d' Alene. Lightcast, a global leader in labor market analytics, is dedicated to unlocking new possibilities in the labor market. The change that Chris was referring to in his opening address statement is driven by developments in Artificial Intelligence (AI) and the rapidly evolving skills requirements for our workforce. Chris went on to say, "We are at the very beginning of the skills revolution."
The top skills needed for the average job have changed 37% in five years. More and more employers are requiring digital skills for non-digital jobs. I think there is a common misperception that AI is going to wipe out all of our jobs and we will all be unemployed in 20 years. But in 2023 alone there have been over 385,000 postings for AI-related jobs. Should we be focusing on building a future-ready workforce? Should Spokane care about all of this? Does Spokane even have a tech sector? The answer to all of these questions is a resounding Yes.
If we look at the change in number of physical establishments (aka pay-rolled business locations) for Spokane County, six of the top ten growing sectors are related to technology under the North American Industry Classification System (NAICS) codes (see highlighted in the table below):




Spokane County's tech sector is growing – and it's growing faster than people may realize. If we drill down on the six specific NAICS codes highlighted in the table above, we've seen tremendous job growth over the past five years. Not only that, but our projected growth over the next five years sees us surpassing the national average. The data tells us that Spokane is on a trajectory towards becoming a thriving technology sector within the next decade.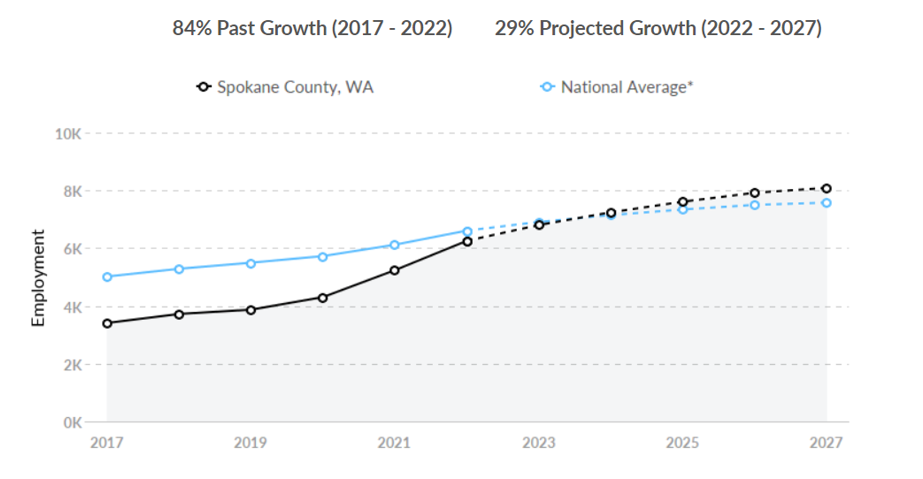 While tech-related jobs are seeing rapid growth in our region, the industry as a whole is actually our fourth top growing industry, behind Transportation, Health Care, and Construction. But AI is going to infiltrate all of these industries – not just tech. According to Ashwin Acharya, MD, Global Lead for Data & Generative AI for Talent & Organization at Accenture, "Data, AI and now Generative AI will create a generational shift in how companies compete, work, and deliver value." Individual work will change. Labor Markets will change. Organizations will change. Society will change. Are we AI-ready? We need to dismiss the misperception that tech jobs require advanced math/science skills, a 4-year or higher degree, are limited to Silicon Valley "big tech", or that it is too late/too difficult to start a career tech path. Amidst a nationwide labor shortage, we need to shift our focus towards our existing local talent and consider how we can upskill or reskill our workforce for these tech-related jobs, across all industries. Acharya notes, "Preparing the broader workforce for AI will require an evaluation of current skills and tasks." Employers need to consider how they are incorporating AI and embrace the change.



In Spokane, one company that has been embracing the change and experiencing substantial growth is Drip7. Designed to be fun and engaging, Drip7 combines delivery, content, and science to create a training platform that drives behavior change and increases knowledge retention. Drip7 is developing its own AI solution to help companies bridge context into Microlearning, helping fortify against cyber-attacks and giving companies the ability to change and add content as needed.
Heather Stratford, Founder of Drip7, says the business environment is going through rapid changes that are creating a new way to work. In the technology and cybersecurity space, AI is being used by both the attackers and the defenders. The question is who can adapt and evolve faster. Being able to change trainings and update staff on current trends is crucial for staying ahead in this ever changing world of fortifying your workforce.
Drip7 spearheaded the development of and is co-sponsoring the INCH360 2nd Annual Inland Northwest Cyber Hub Conference on December 6th at the Hemmingson Center on the Gonzaga Campus from 12:30 to 5:00 pm. Other Gold sponsors of the event include STCU, Google Cloud, Palo Alto, Structured Communications, and ISOutsource. This event will be a gathering of different levels of cybersecurity and technology specialists throughout the region and strengthens the growing technology hub. INCH360 is a new regional tech-focused group. INCH stands for Inland Northwest Cyber Hub; 360 refers to the goal to be a hub for all people and levels of the cybersecurity industry. INCH360's mission is to promote education, collaboration, and communication about resources, regional companies, and jobs. This is a FREE event to businesses and technology professionals but requires a pre-registration. You can reserve your ticket here.
To learn more contact Joey Gunning at jgunning@greaterspokane.org.