The housing crisis facing Spokane County is growing and the statistics are startling. Over the past 10 years, housing availability has decreased 94%, and Spokane County is approximately 32,000 housing units short. On top of this shortage and current data, only one in seven houses is considered affordable. The social and economic toll is considerable since lack of housing impacts everyone —neighbors, including renters, first-time homebuyers and homeowners but also businesses, home builders, small business owners and governmental organizations.
Spokane Association of REALTORS® created a program to get the conversation going and invite the community to take action through its "Together Stronger" campaign. Armed with data that identifies the negative impact to economic development and the social costs to children and families, Spokane Association of REALTORS® is a beacon to shine light on the issues of Spokane county's housing crisis and activate our community to get involved.
Earlier in 2021, Spokane Association of REALTORS® hosted the Spokane Region Housing Needs Summit 2021. The summit brought together economists and housing experts to analyze the impact on the region. Some key findings included:
A lack of inventory has led to thousands of families renting who cannot find a home to buy
Vacancies in regional rentals remains at a dangerous level of around 1% forcing costs upward
The biggest lack of inventory lies in entry level or "workforce housing"
From declining personal health, to increasing family stress, to lower student performance in school, to increased levels of homelessness, Spokane's lack of housing has triggered a severe impact on the health of our citizens
Spokane has high levels of cost-burdened families spending more income on shelter than similar cities in the state and across the U.S.
Millions have been lost in economic benefit and tax revenue from a lack of construction
The Spokane Region is among the top places to move in the country with expected growth of 48,000 more people by the year 2030
Many of these home buyers come from larger west coast markets including California, Idaho and Oregon
The bulk of new homes in our region are now built across the border in Idaho
Local public policy has resulted in the lack of housing production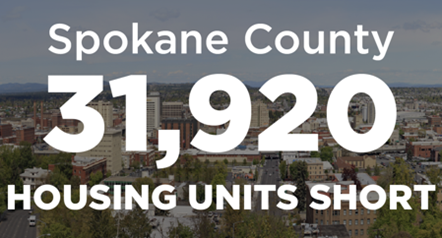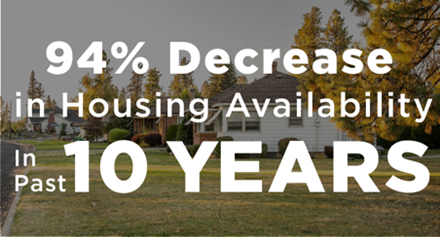 Together Stronger™ Goals
Three goals have been identified as part of the Together Stronger™ housing crisis campaign. The first goal is to build greater awareness regarding the true impact of the housing shortage. Spokane Association of REALTORS® is working with Greater Spokane, Inc., The Home Builders Association and local business leaders to highlight the true economic impacts facing our community.
The second goal is to hear directly from citizens across Greater Spokane County to understand the impact, both personally and professionally. Lack of housing impacts the academic and physical health of students – no matter the grade level. Small business owners are also impacted as fewer residents due to less housing available and less disposable income due to increasing rents. With decreased sales and lower taxes come less revenue to support vital social services across Greater Spokane County.
Finally, the third goal is to create a conduit to government leaders and policy makers so they can hear from their constituents. Responsible land use, zoning and other policies must be examined and addressed in order to solve the many issues related to the housing crisis. Across the border, Idaho has experienced more home starts and greater numbers of housing units as land is more readily available.
The housing crisis did not happen overnight nor will we be able to solve it immediately. But you can make a difference by sharing your story and working with community members to put a spotlight on the need to take action and move the conversation forward. Today.
How the Housing Crisis Has Impacted You
Visit Spokane Association of REALTORS® website https://www.spokanerealtor.com/together-stronger/ to learn more about the impact to our community and share your story of how the lack of housing is affecting you. Together We Are Stronger.