BE PART OF THE SPOKANE DELEGATION IN OLYMPIA
Wednesday, January 17 – Friday, January 19 2024
Courtyard by Marriott Olympia
2301 Henderson Park Lane SE
Olympia, WA 98501
Join us for our annual Olympia Fly-In. Each year this delegation of business and community leaders travels to Olympia, WA to meet with lawmakers and advocate on behalf of the greater Spokane region with a unified agenda. Topics covered will include business climate and taxation, health care, education, and regional capital and transportation projects, among others.
This year's fly-in features a two-night stay at the new Courtyard by Marriott, the legendary Grand Reception, an  Association of Washington (AWB) Luncheon, breakfast presentation, and two days of advocacy.
*Seats are limited, so register early to secure your seat!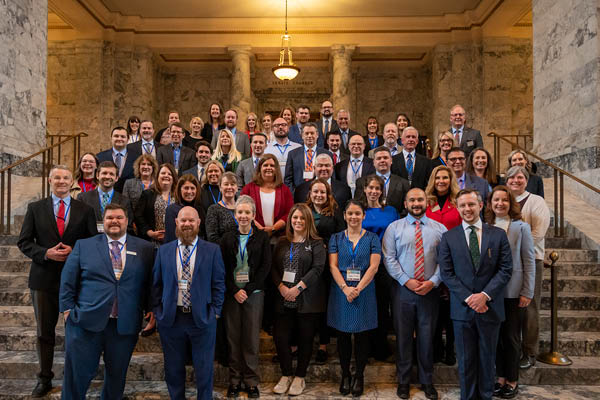 WORKING AGENDA (TIMES MAY CHANGE)
10:30 AM: Bus departs SeaTac Airport
Noon: Lunch at AWB
2 – 3:30 PM: Olympia Session
5:45 PM: Depart hotel for Spokane Grand Reception at the Olympia Golf & Country Club
9 AM – 4 PM: Advocacy Session


7:30-8:45 AM: Breakfast Session
9:30 AM: Depart hotel for SeaTac Airport
Is your organization a member partner of GSI? This means you are too!
Be sure to login for special pricing. Need credentials or want to sponsor? Email us at events@greaterspokane.org.
event item | EXPIRATION DATE | PRICING
Complete Package (airfare not included) Includes two-night hotel stay, two meals, ground transportation and access to Grant Reception.
Member: $825
Non-Member: $875
Partial Package (hotel/transportation not included) - includes two meals and access to Grand Reception.
Member: $500
Non-Member $550
Hotel Only (two-night stay).
Ground Transportation (daily commute to/from hotel and Grant Reception).