Communities in Schools of Spokane County Partners to Help Kids Succeed

With one in six children under the age of 18 living in poverty coupled with an environment that's been impacted by the effects of a pandemic, it's critical to have a support system in place to lift and empower disadvantaged kids.
Mentor Up is one local community campaign doing just that. Run by Communities in Schools of Spokane County, in collaboration with Big Brothers and Sisters of the Inland Northwest, Spark Central, and Gonzaga University, the program matches volunteer mentors one-on-one with like-minded students to build relationships of support that empower them to stay in school and achieve in life.
Currently, there are hundreds of students looking for mentors. At Community in Schools PrimeTime Mentoring program, volunteers devote 30-60 minutes each week to make a difference in the life of a student. Mentors spend time building relationships, participating in fun activities, and encouraging students.
Kelley Hinrichs, Director of Volunteer Services for Communities in Schools of Spokane County and GSI member partner, said their goal is to train 500 mentors, as there are many students in need. "Just about anyone who cares for our kids' future can be a mentor. The art of mentoring is simple, and we work with you," Hinrichs observed. "We make it as easy as possible. You don't need a degree in child development. These kids need a friend and someone to connect with who has similar interests."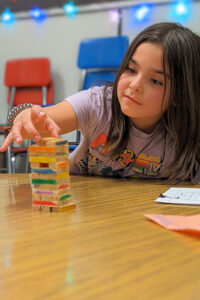 According to youth.gov, mentoring youth promotes increased high school graduation rates, healthier relationships and lifestyle choices, better attitudes about school, higher college enrollment rates, enhanced self-esteem and confidence, and stronger relationships with parents, teachers, and peers.
Communities in Schools collaborates with 21 schools across the region with integrated services that help meet a student's basic needs with food, school, and academic support, college and career exploration, parent education, and more. A site coordinator at each school partners with mentors and other local providers for resources such as social service agencies and health care organizations.
Last year in Spokane County, Communities in Schools' site coordinators helped more than 6,000 students to overcome barriers to school success. 87% of these students improved school attendance, while 94% improved behavior, 84% improved coursework, and 93% saw an improvement in socioemotional learning.
Do you want to have fun while changing the life of a child and lifting our community? Sign up to be a mentor and participate in the Mentor Up program today at www.volunteerspokane.org/mentorup.