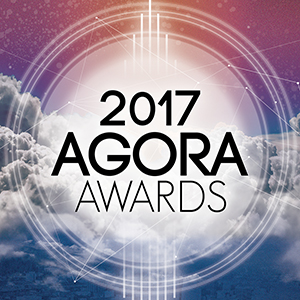 The 32nd annual AGORA Awards take place June 7, with the theme Explore the Future – Celebrate Business Success! We are excited to announce that our panel of judges has narrowed the field of nominations to 18 finalists.
Interviews for finalists now take place between March 20 and April 3, after which our judges will decide who takes home the prize in their category. AGORA Awards are presented to companies that have demonstrated outstanding business excellence in our community. Categories for awards include: Small and Large Non-Profit organizations, and Small, Medium, and Large businesses. Additionally, judges present AGORA awards for both Community Service and Entrepreneurial Spirit. We'll announce winners at the AGORA Awards ceremony, held at the Spokane Convention Center, Wednesday, June 7.
This year's AGORA judges represent businesses and community non-profits throughout the Inland Northwest. Thanks to Bank of America, YMCA of the Inland Northwest, DataPro Solutions Inc., BECU, Inland Empire Paper Co., Horizon Hospice, HUB International Northwest, Bank of America, BDO USA LLP, Spokane Symphony, Mountain Dog Sign Co., Eastern State Hospital, GeoEngineers Inc., Bernardo-Wills Architects PC, Asuris Northwest Health, Robert Half Finance & Accounting, Merrill Lynch, Vanessa Behan Crisis Nursery, Tate Technology Inc., and Spokane Gymnastics for serving as judges for this year's awards.
Seating for the 2017 AGORA Awards is limited! Visit our event page to secure your seat today!
Thank you to our Title Sponsor, Bank of America, for making this event possible. Robert Half joins us as a Post Event Advertising Sponsor, and LCD Exposition Services is our In-Kind Stage Sponsor for the event.
Congratulations to the 2017 AGORA Awards finalists! Do you see a business you know? Make sure to congratulate them on their nomination. And, be sure you're at the awards event in June as we celebrate the success of businesses and organizations throughout our region!
Small Business
Medium Business
SouthCare Animal Medical Center
Large Business
Small Non-Profit
Women & Children's Free Restaurant
Large Non-Profit
Ronald McDonald House Charities- Spokane