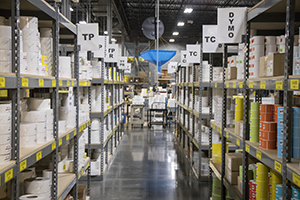 A family-run business since its inception, Able Label has made an impact throughout the world by providing blank labels for countless industries.
Art and Kaleen Coffey purchased the company in 2013 from longtime owner Dick Shanks, who started Able Label in 1985. Shanks also founded Fasteners, Inc.
Since the Coffeys began their involvement, Able Label has grown from 12 employees to 22 today.
The business moved to its current location in 2015, which is a 24,000 sq. ft. warehouse adjacent to the Playfair Commerce Park. Their previous building was a mere 10,000 sq. ft., lacked proper air circulation and didn't allow much room for growth.
Coffey estimates that around 10 percent of Able Label's sales come from international trade. While very few of their sales take place in Spokane, the vast majority of their product is sold to companies in the U.S. The company sends products throughout South America and the Middle East, and also does business in Canada.
Able Label sends customers a sample kit to ensure the label adheres properly in the environment and material onto which the label is applied. Some labels curl up and won't adhere properly, while others don't stand up to cold or humid environments.
As an example, not all boxes are created equal.
"Cardboard is cardboard, but it's not," Art said.
Art noted that some boxes use recycled materials, paint and other coating materials, which makes their testing all the more important for their final label product.
"You really don't know what the ingredients are," he said.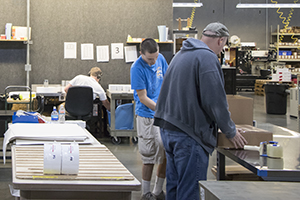 The company has a set of 25 different substrates on-hand, all made in the U.S., to ensure they can quickly manufacture the required size label with the proper face-stock and adhesive to meet the customer's requirements. Those substrates allow the company to create an arsenal of 1,100 different label products that supply any size, face-stock, adhesive, or printer requirement.
Art says the company isn't driven by rapid expansion, and typically adds three new customers per day. Most of their growth has come through word of mouth from existing customers, as the company doesn't have a large investment in traditional advertising.
"Our goal is to take care of the people we've done business with for years," Art said.
Beyond his role as CEO, Art is an avid supporter of the Union Gospel Mission. Not only did the company benefit from moving into a larger warehouse, but it's closer to the UGM's shelter on Trent Avenue, encouraging service throughout the company.
Do you want to learn more about international trade? See how GSI can help your business at GreaterSpokane.org/international-trade or contact Drew Repp, International Trade & Economic Development Manager, at 509-321-3634.