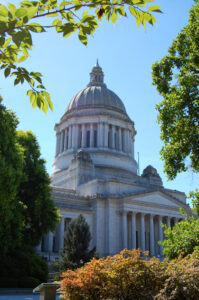 Greater Spokane Incorporated's Public Policy Council recently started updating GSI's State Legislative Priority Agenda. With the 2017 legislative session right around the corner, the Council sent out questionnaires to members of the GSI policy committees and the Board of Trustees, seeking input on policy and community project funding requests.
The Public Policy Council will review policy requests at its October 12 meeting and community project requests at its October 13 meeting. In November, the Council will make recommendations to the GSI Board of Trustees, which will determine GSI's state agenda for 2017.
The 2016 GSI Legislative Priority Agenda covered Business Climate Policy, Civic Partners Policy, Education, as well as Transportation and Infrastructure. It also included a number of Community Projects and Statewide Initiatives to promote cultural exhibits, tourism and in-state film productions.  This year's agenda is expected to focus on the five Key Community Initiatives outlined in GSI's newly adopted Strategic Plan.
For more information on the Public Policy Council, or to submit a policy or funding request, contact Michael Kelly.
Upcoming GSI Public Policy Council events:
Oct. 12, 1-5 p.m. – Public Policy Council (presentations by GSI policy committee chairs, designated Public Policy Council members only), GSI first floor conference room
Oct 13, 8 a.m.-noon – Public Policy Council (community project funding request presentations), GSI first floor conference room
Dec. 8, 2016 – Legislative Forum and Reception, Davenport Hotel 3-7 p.m.
Feb 1-2, 2017 – Olympia Fly-In
May 2-4, 2017 – Washington, D.C., Fly-In