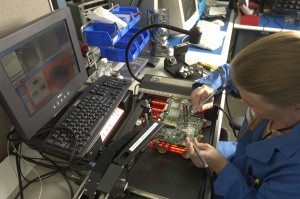 Friday, Oct. 7, 2016, marks the fifth annual Manufacturing Day celebration, recognizing the achievements and the important role of our nation's manufacturing industry. Here in the Spokane region, more than 600 manufacturing businesses employ a workforce of 15,000, accounting for over 7% of our region's economy.
Across the nation, more than 2,500 events highlight the careers available for students, and the skills that form the foundation of our country's diverse manufacturing capabilities. In our region, Greater Spokane Incorporated sponsored the Manufacturing Matters Expo Sept. 27. Greater Spokane Valley Chamber of Commerce organized the event, which highlighted many of our region's 600 manufacturing businesses. GSI advocates for business-friendly regulation, incentives, addressing the labor skills gap, and assists companies with recruitment, expansion and retention of their Spokane-based workforce.
The Spokane region provides several advantages for manufacturing companies seeking to relocate to the area, including low utility costs and close proximity to both air and rail service. The region also has an educated and available labor pool supported by engineering programs offered by local public and private universities.
GSI members in the manufacturing industry include Accra-Fab in Liberty Lake, which announced a facility expansion in June of this year. The precision fabrication and contract manufacturing company currently employs more than 160 and anticipates growth exceeding 10% at their location in the Spokane region. Accra-Fab has a $53 million annual economic impact to the Spokane region.
Novation is another advanced manufacturing company in the Spokane region, with a 35,000-square-foot facility that provides surface finishing from small prototype runs to high volume production.