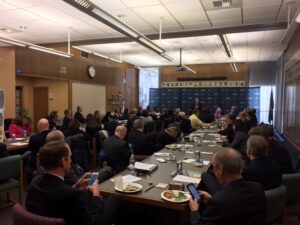 Day two of the 2017 Olympia Fly-In consisted of in-depth discussions regarding education and health care. This year's Fly-In includes a delegation of nearly 100 area business, community, and education leaders advocating on behalf of our region to provide a unified voice for our legislators.
Our delegation started Thursday morning by meeting with Washington State Supreme Court Justice Debra Stephens. One of the hot topics of discussion affecting many in Spokane was the Whatcom County vs. Hirst, Futurewise, et al. decision just last month. The decision changed how counties decide to approve or deny building permits that use wells for a water source. Justice Stephens, who wrote the dissent for the decision, provided our group with insight as to how the court ruled on the decision.
Health care was another topic of discussion for our group. One big theme of the session was to ensure that Spokane maintains the funding needed to support two medical education institutions. Our delegation also wanted to ensure there will be some certainty regarding what happens with Washington state health care if something should happen to the Affordable Care Act.
The main theme of the day continued to be education as our delegation met with legislators regarding the state budget. According to legislators at the session, a large part of the state budget will come into compliance with the McCleary decision, which requires the state to fully fund K-12 education by 2018. The second part of the discussion covered passing bonds to build new schools across the state. Washington state is required to match dollars for the building of new school infrastructure, which is taking up a majority of the capital budget for the year.
In addition to meeting with Justice Stephens, our delegation met with the following legislators to cover health care and the state budget:
Senate Majority Leader Mark Schoesler (R – Ritzville)
Speaker of the House Frank Chopp (D – Seattle)
Rep. Joe Schmick (R – Colfax)
Rep. Marcus Riccelli (D – Spokane)
Sen. Michael Baumgartner (R – Spokane)
Sen. Mark Mullet (D – Issaquah)
Sen. Dino Rossi (R – Redmond)
Rep. Richard DeBolt (R – Chehalis)
Rep. Timm Ormsby (D – Spokane)
Rep. Steve Tharinger (D – Sequim)
Rep. Joel Kretz (R – Wacounda)
Thanks to our sponsors for their generous support:
And thank you to our Olympia Fly-in partners, helping us create something greater for the Spokane region: the Greater Spokane Valley Chamber of Commerce and the West Plains Chamber of Commerce.