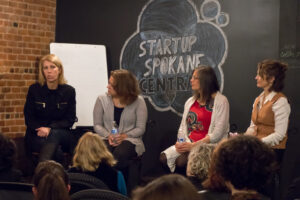 This week marks the 10th anniversary of Global Entrepreneurship Week, which celebrates innovators and job creators throughout the world with thousands of events.
Observed in 165 countries, entrepreneurship has taken off across the globe, and the growing startup community in Spokane is no exception to the rule.
Startup Spokane, a program of Greater Spokane Incorporated, is celebrating Global Entrepreneurship Week with a number of events and learning opportunities. It all started the weekend of Nov. 10-12, when Startup Spokane joined entrepreneurs from throughout the region at Avista Utilities' headquarters for Startup Weekend Spokane. There, nearly 80 competitors were able to practice and learn the basics of founding and launching a successful startup venture.
This year's winning team at Startup Weekend Spokane was Lil' Omelette, an online cooking class for ages 5 to 12. Each of the winning teams were comprised of high school, college students and working professionals.
There are numerous opportunities for entrepreneurs to learn and network with each other throughout the rest of the week. Business Finance 101, taking place Wednesday, Nov. 15, features Doug Wolford, Washington Trust Bank Vice President, and Brad Ferris, Craft3 Senior Underwriter. The session takes place from 5-7 p.m. at Startup Spokane, 610 W. 2nd Ave.
The week culminates Thursday evening with Entrepreneur Connect, 5-7 p.m. Once again held at Startup Spokane, this event features Dave Parker, Venture Partner at Seven Peaks Ventures. He'll share about the important role a community can play in Spokane's startup scene.
Formed in 2015 as a program of GSI, Startup Spokane is the hub for all things entrepreneurship in the Inland Northwest. Supported by generous community sponsors, Startup Spokane provides new business owners with a wealth of information through numerous events, mentoring opportunities, a co-working space, and much more.
For more information on Global Entrepreneurship Week, visit GENGlobal.org. To see all of Startup Spokane's upcoming events, visit StartupSpokane.com.