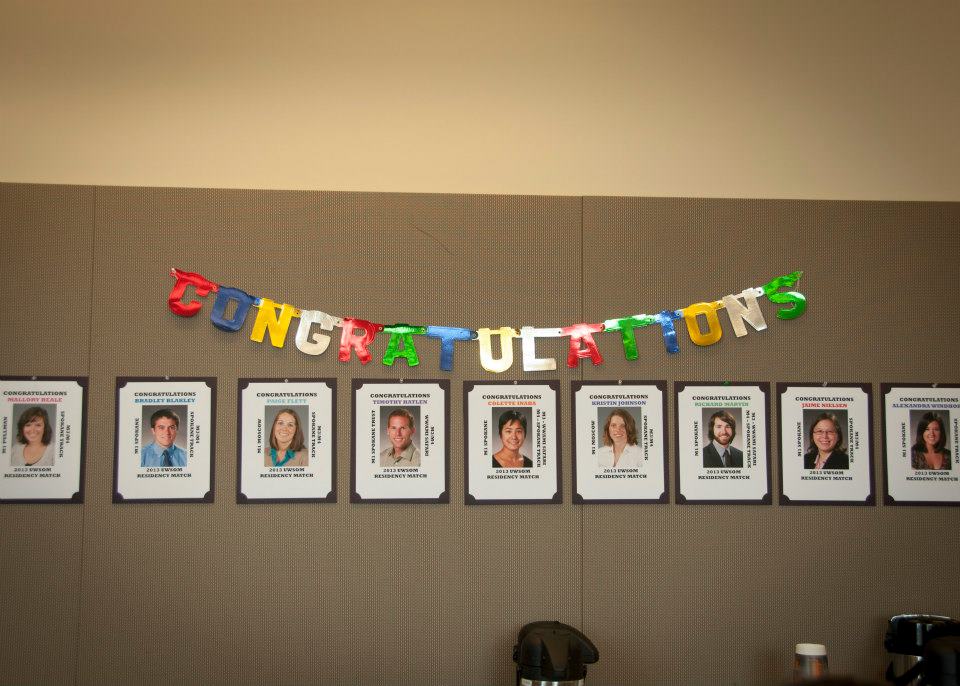 Last Friday, nine fourth-year medical students (above) at WSU Spokane found out where they would be starting their residencies. Six of those nine students began their medical education studies in Spokane in 2009. It was a momentous day, as the students now know where the next stage of their education will take place.
Residencies – what medical students complete after four years of medical school, also known as graduate medical education – are something this region needs more of. With an aging population, there is a need for more doctors, especially in rural areas. That's where the Academic Health Science Center comes in.
Spokane's medical community transformation began in 2008 when the first class of medical students began at WSU Spokane through the WWAMI program. It continued when the big Biomedical and Health Sciences Building broke ground in late 2011 (the building will be complete this fall). It will progress again this fall when the first class of second-year students begins classes.
Now it's time to grow residency slots.
Doctors tend to practice in the city where they completed their residency. Currently, Central and Eastern Washington have 100 residency slots, compared to 1,517 in Western Washington. There are obvious population discrepancies between Western Washington and the rest of the state, but in Central and Eastern Washington, there are 6.8 medical residents per 100,000 people – much less than the national average of 35.7 medical residents per 100,000 people (for the sake of fairness, Western Washington's medical residents per 100,000 people is 29.8).
Our region clearly needs more residency slots to keep pace with the doctor shortage. More doctors in our region lead to better care and a better economy. We are leading the push for expanded graduate medical education alongside a number of community partners by meeting with our leaders at the federal level.
Transforming the medical community is something this community deserves. With around 33,000 people working in the health care sector in the region, a four-year medical school and more opportunity for residencies fits well in Spokane.
Learn more at www.morethanamedicalschool.com