Another year, another advocacy trip to Washington D.C. is in the books. Our regional delegation met with government officials, elected officials, Air Force officials, presented a Key to the City to retiring Representative Norm Dicks, talked about tankers, transportation, graduate medical education, and a lot more.
Here's what we took away from the trip:

First up, Fairchild Air Force Base: We meet with Air Force officials throughout every year. Our CEO is on the Air Force Chief of Staff Civic Leaders Group (CLG), and Kevin Twohig, CEO of the Public Facilities District, is on the Air Education and Training Command CLG. Bill Simer, a Partner at McDirmid, Mikkelsen & Secrest, is on the Air Mobility Command CLG. That's a lot of representation from Spokane!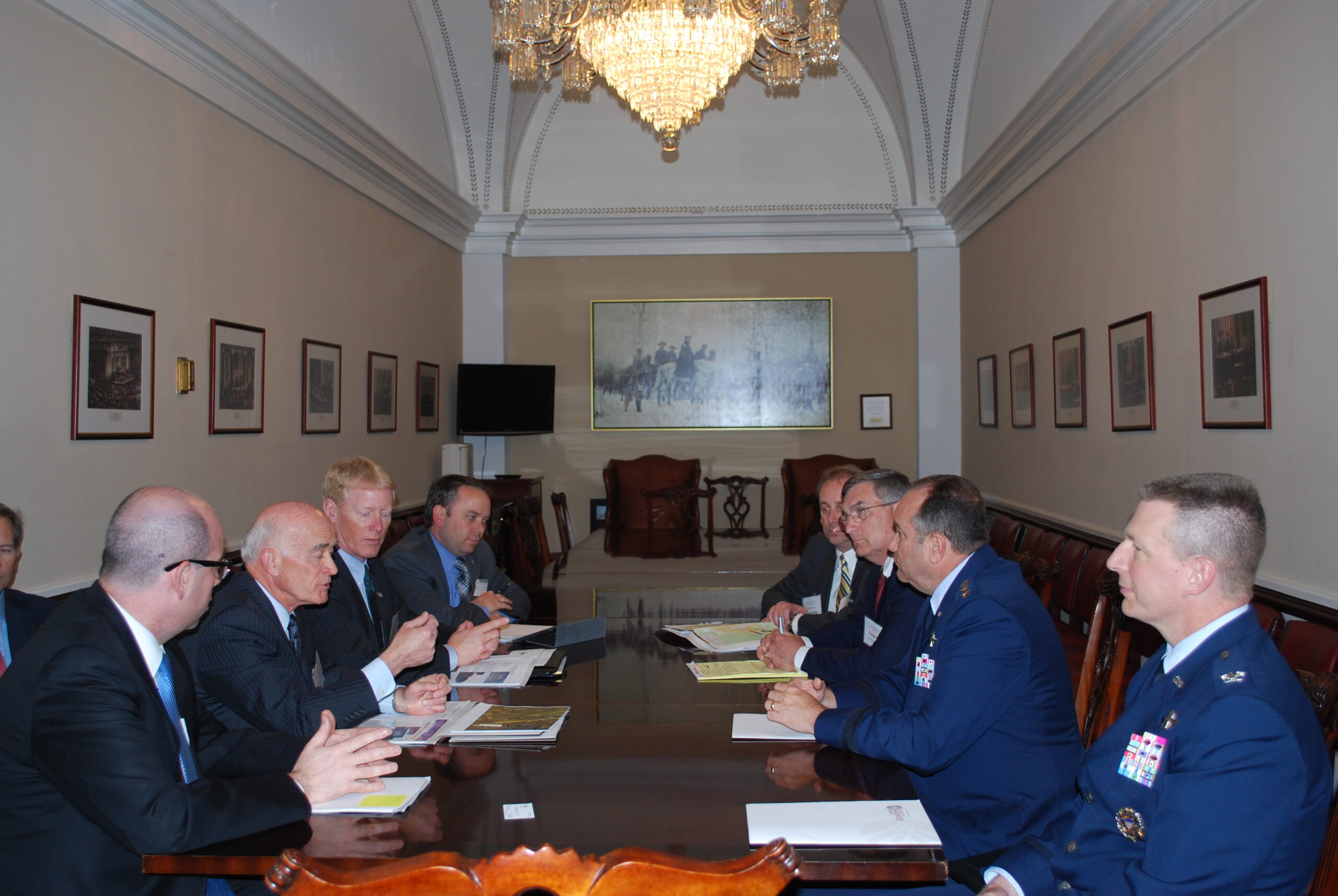 We met with General Breedlove, Vice Chief of Staff for the Air Force to talk tankers and protecting the base. Gen. Breedlove complimented our community for its support for Fairchild, including the adoption of the Joint Land Use Study (JLUS).
Gen. Breedlove also commended Fairchild's classic association – Fairchild is home to the Air Force's 92nd Air Refueling Wing and the Washington Air National Guard's 141st Air Refueling Wing – and said that kind of structure will be required for the new KC-46A tankers. That's a good sign!
But will we get the new tankers? We'll see. Basing criteria is expected to be released this month. Stay tuned!
Next up to bat, transportation: We were fortunate to meet with Federal Highway Administrator Victor Mendez, who said the chance of new transportation funding is "slim." The North Spokane Corridor remains our region's top transportation priority.
Up next, medical education: Our elected officials are greatly supportive of the Biomedical and Health Sciences Building at the Riverpoint Campus, as well as the upcoming expansion, with the second year of studies at WSU Spokane soon to be a reality (fall of 2013!). What the federal government can influence is Graduate Medical Education (GME), mostly known as residency slots. Our region is in need of more residency slots, especially in rural areas. Representative Cathy McMorris Rodgers has a bill that would create a pilot program for rural primary care residency slots. We'll keep an eye out for the bill.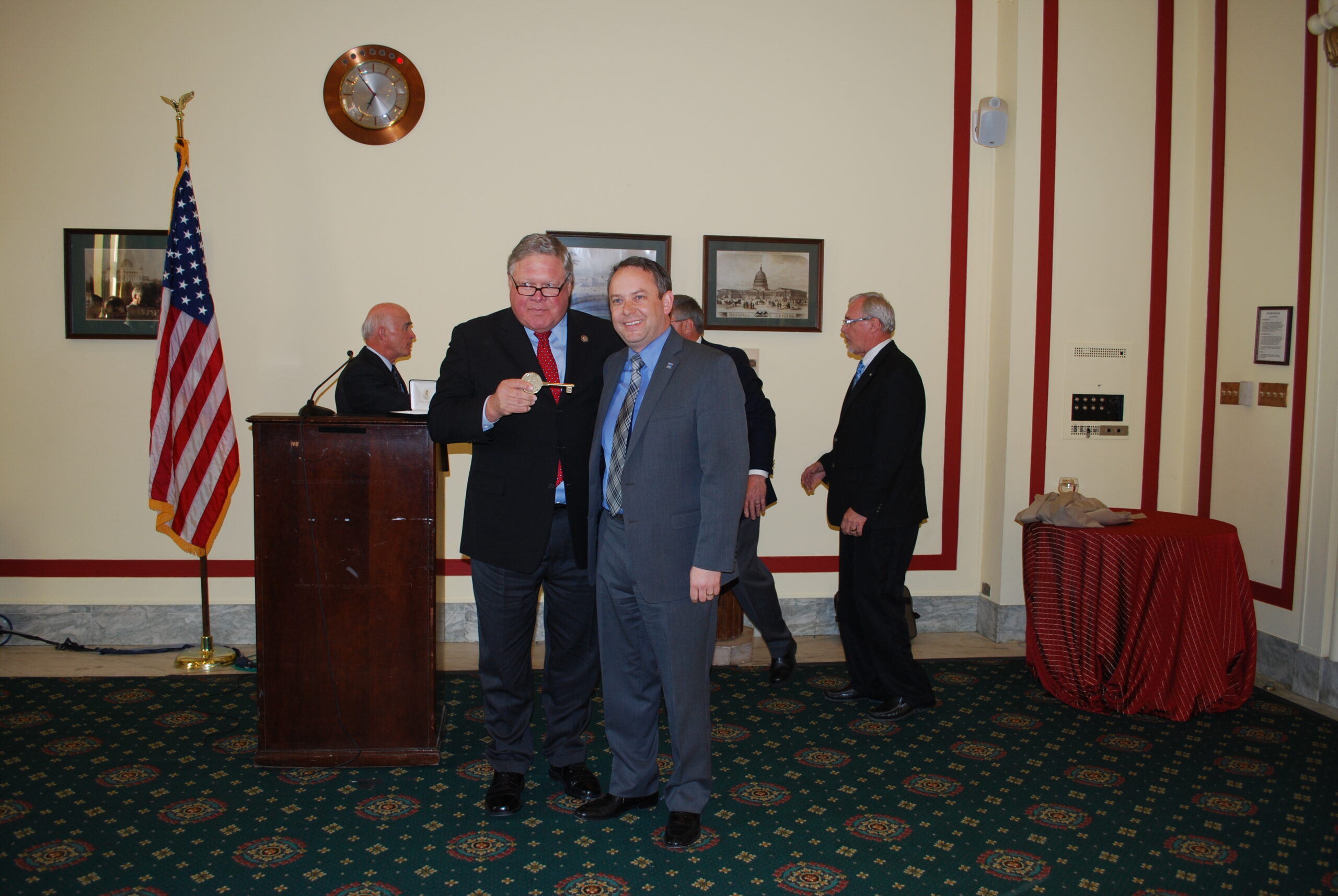 Batting cleanup, Representative Norm Dicks: A key factor in leading the charge to get the tanker contract for Boeing, and a great proponent of the military in the region is retiring at the end of his term, capping a 36-year career in the U.S. House of Representatives. We toasted Dicks at our regional reception last Wednesday evening, where we presented him a memento about Fairchild, and Spokane Mayor David Condon presented him a Key to the City (right).
Meeting our new public schools leader: Incoming Spokane Public Schools superintendent Shelley Redinger met up with our delegation at the Wednesday evening reception. Redinger is wrapping up her time as Superintendent of Spotsylvania Public Schools in Virginia and will officially begin her role in Spokane on July 1.
Bringing Home the Business: These trips to D.C. are all about bringing back business and investment to our region. Our friends at Visit Spokane were on the trip, and did their part to attract investment. Visit Spokane hosted a lunch with prospective association groups and already received four requests for proposals from groups interested in hosting a convention in Spokane. Nice work!
As always, this trip is in partnership with the West Plains, Spokane Valley, Post Falls and Coeur d'Alene chambers of commerce. Great trip, everyone! We'll do it all again next year!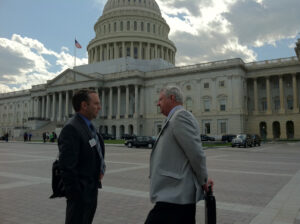 Spokane Mayor David Condon and Spokane County Commissioner Al French talk outside the capitol.