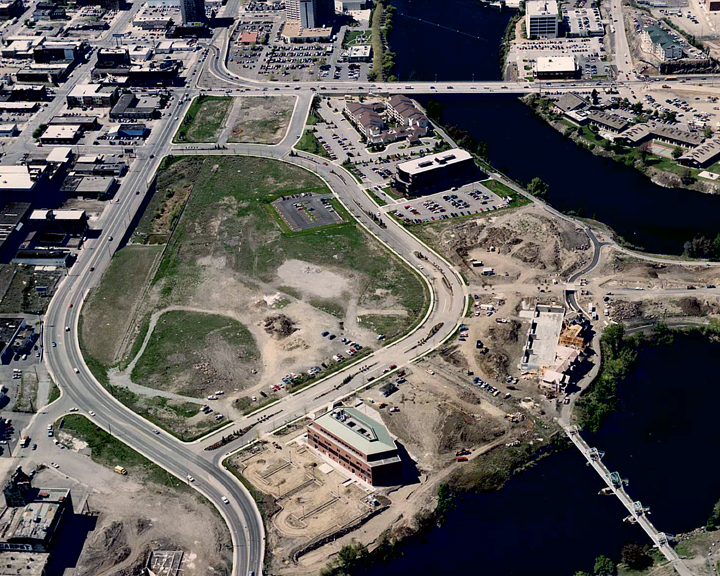 A couple weeks ago we wrote about two "game changers" in Spokane that show our community's progress. We mentioned that there were other projects, and now we can talk about some of those.
Since area colleges and universities are about to start classes (WSU Spokane and WSU Pullman actually started classes earlier this month), why don't we look at some of the projects on campuses around the region?
Community Colleges of Spokane
It's not a new building, but Spokane Community College's Air Washington program launched last year to help train students in advanced manufacturing, electronics/avionics and aircraft maintenance. This program is funded through a $20 million U.S. Department of Labor grant and is spread out across the state. The Spokane portion is housed at SCC.
This program aims to train skilled workers as our region's aerospace industry grows.
Eastern Washington University
The Patterson Hall renovation – which was part of a past State Legislative Agenda of ours during our annual advocacy trip to Olympia – is expected to be complete next summer. The building houses a number of classrooms in the middle of campus right across from the student union building. The project consultant is NAC Architecture, a local company and GSI member.
The university has a number of other projects on the horizon, including a new chemistry and physics building and a new residence hall.
Gonzaga University
Earlier this summer, Gonzaga broke ground on a nearly 168,000-square-foot University Center, which will host student clubs, dining halls, study lounges and a lot more.
Let's let Gonzaga President Dr. Thayne McCulloh explain the project:
Washington State University
The two main construction projects for WSU are the Pharmaceutical and Health Sciences Building at Spokane's Riverpoint campus and the new Football Operations Building on the main Pullman campus.
Last year, the school opened the Paul G. Allen School for Global Animal Health thanks to a $26 million gift from Microsoft co-founder Paul Allen. The 62,000-square-foot research building cements WSU's role as a worldwide leader in global animal health education.
Whitworth University
The north Spokane University was again named one of The Princeton Review's best universities in the West recently.
The University also has a shiny new recreation center on campus for students to enjoy. The center opened last fall and probably still has that "new rec center" smell.
***********************************
Progress is apparent on the campuses at our area universities and colleges. Students currently at those schools and those considering those schools will no doubt be attracted to the new buildings and programs, as our region continues to grow.