OLYMPIA, Wash. – The top two issues facing the Washington State Legislature were the main topics on the first day of Greater Spokane Incorporated's (GSI) advocacy trip to Olympia on Wednesday. This trip is in conjunction with the Greater Spokane Valley and West Plains chambers of commerce.
Eighty-nine area business, education and community leaders arrived in Olympia ready for three days of advocating for the greater Spokane region, and it wasn't long before the major topics came into focus.
Transportation
The biggest issue on the legislature's to-do list is a transportation package. Governor Jay Inslee wanted one last Thanksgiving but a package never materialized. The Spokane region is particularly interested because the region's top priority is securing $750 million to complete the North Spokane Corridor. Other priorities include remodeling State Route 904 to Cheney, the Geiger Road and Medical Lake interchanges, the Central City Line and more.
"A transportation package is critical to the economy – from the smallest ag company to the large producers," Roger Flint of CH2MHILL told legislators.
The issue at stake is how to fund a transportation package: do you ask the voters to approve a 10-12 cent gradual gas tax increase, or do you use funds from the state's general fund and make reforms prior to doing so?
"We agree on so much," Representative Judy Clibborn (D – Mercer Island) said, while driving the point that the differences legislators have pertain to the funding mechanisms. "All of the projects (in the proposed package), you would have liked."
Representative Ed Orcutt (R – Kalama) believes reforms to the way the state collects revenues need to take place before the public would vote in favor of a gas tax.
"Whatever we do with a tax package, it has to stand up in front of the voters," he said.
Orcutt toured the North Spokane Corridor in 2013 and understands it's a major priority for the region's freight mobility companies. He told a story about a time he once was in Spokane and drove up Division Street on his way to Addy, Wash. and looks back thinking a freeway would have made his commute much faster.
In the debate between the House and Senate (and Republicans and Democrats), legislators agreed some compromises would have to occur.
"If there are reforms made, Republicans could support a tax package," Orcutt said.
Many Republicans have suggested shifting sales tax revenue to fund transportation projects. Representative Marcus Riccelli (D – Spokane) said he is one Democrat who would do the same, while noting many from his party would not.
Senator Doug Ericksen (R – Ferndale) also believes reforms are needed, but they should link to the way transportation projects are completed, such as reforms to the permitting process.
In a short supplemental session, transportation is sure to be the biggest issue in Olympia.
It's really disappointing that we're not moving faster," Clibborn said. "I know you're all frustrated."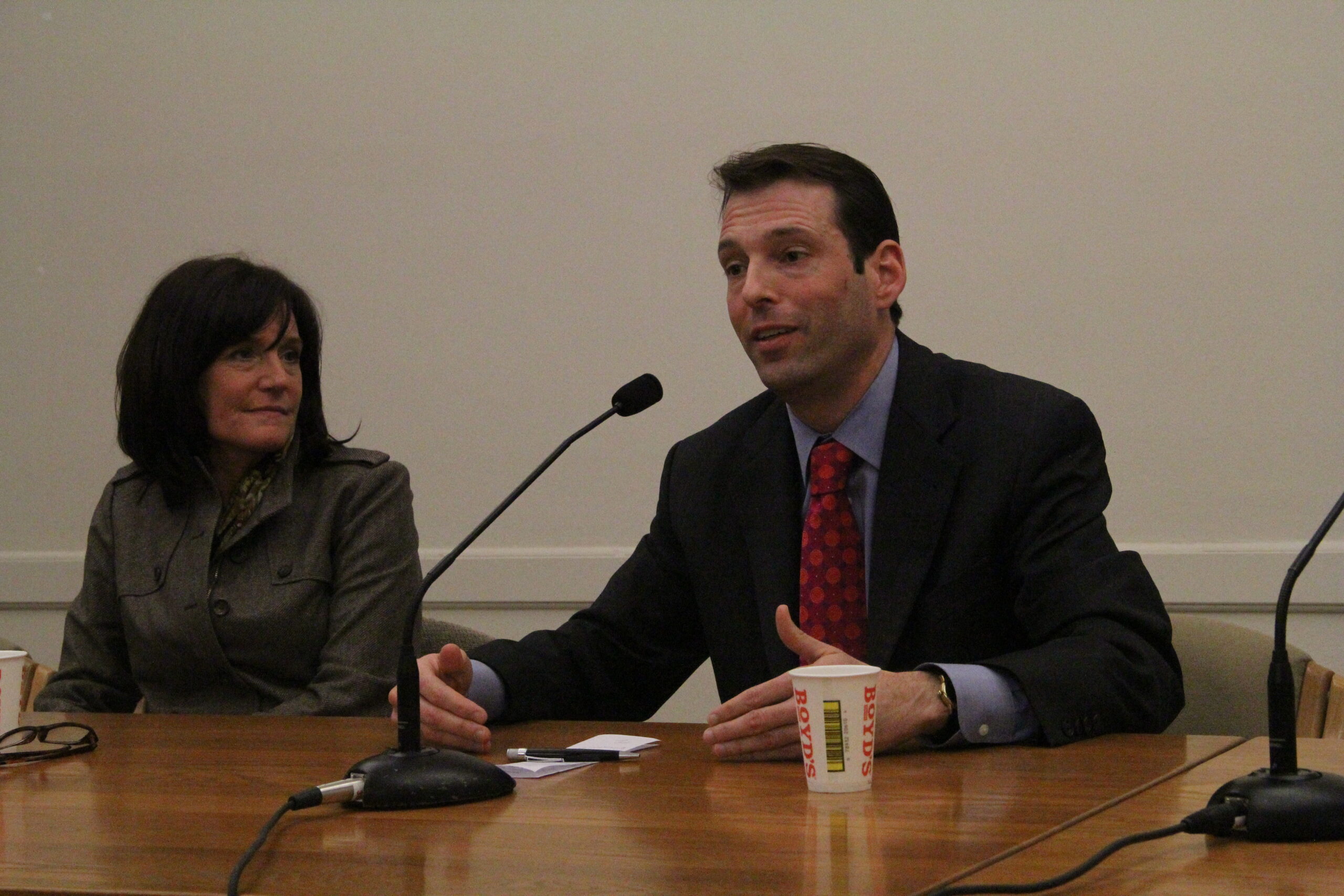 K-12 Education
The other hot issue in Olympia is K-12 education funding, which was also a big issue last year and will continue to be due to the State Supreme Court's ruling in the McCleary decision, which said the legislature wasn't properly funding K-12 education. In response, the legislature spent one billion dollars more in 2013. The Court recently stated that while progress was made, more is needed.
But whether more progress comes in 2014 or next year remains to be seen. The short supplemental session might force the legislature to hold off until 2015.
"I would predict that there would be no re-adjustment to McCleary at this point," Representative Cathy Dahlquist (R – Enumclaw) said.
Senator Andy Billig (D – Spokane) didn't disagree, but said he believes the legislature will at least make some sort of attempt to make an investment in K-12 education.
Members of the Spokane delegation voiced concern about unfunded mandates the state places on school districts. Dahlquist said she's proposed a bill to allow school districts to opt-out of some mandates, but the bill has never made it out of committee.
Billig brought up an interesting argument that fits nicely with GSI's support of a community goal that would see 60 percent of Spokane County's adult population have a two-year degree or higher by 2025. He noted that kids that don't get enough early and summer learning fall behind and widen the gap between them and other kids each year. The problem grows as they get older and soon resources are being spent to get them to catch up. Billig said investments in early and summer learning would go a long way in closing that gap.
A Blast From the Past
The delegation's first stop in Olympia was a lunch meeting at the Association of Washington Business (AWB) where David Schumacher of the Office of Financial Management talked about the state budget.
But a fun moment happened when brand new AWB President Kris Johnson took the podium to welcome everybody. Johnson began his chamber career at the Spokane Chamber of Commerce (now GSI) in the 90's. He was once the President and CEO of the St. Paul, Minn. Chamber of Commerce, which is where Rich Hadley, GSI's President and CEO, also once worked as the President and CEO. Rich will be retiring the first week of May, and Kris is just beginning his tenure at AWB:
The delegation continues its work tomorrow when it meets with legislators on health care and higher education. The delegation will also meet the "six corners" of the state legislature before joining Governor Inslee at his residence for a reception.