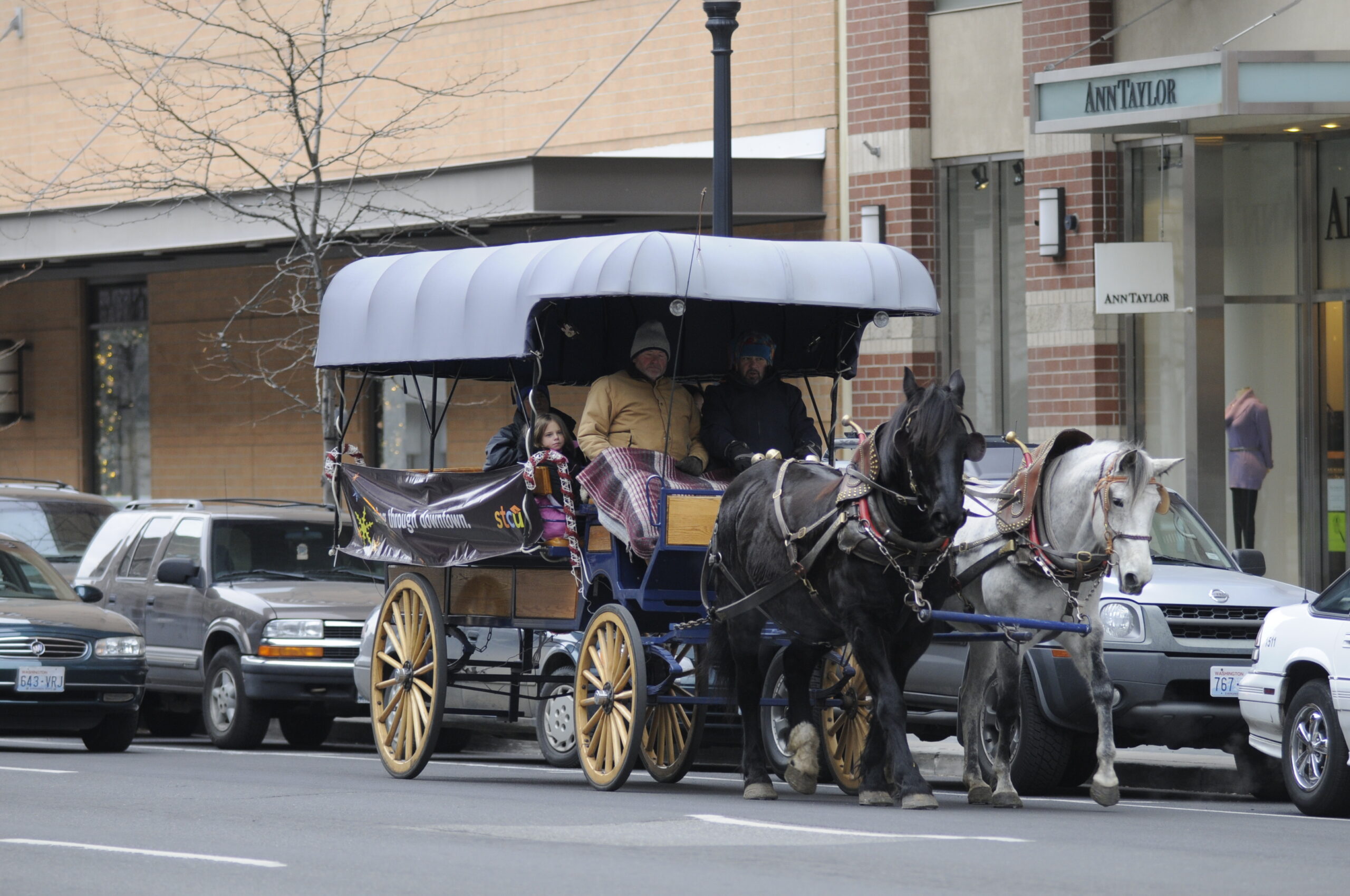 Photo courtesy of STCU
It's the most wonderful time of the year…..
That line – written by Edward Pola and George Wyle and sung by Andy Williams – rings true for the Spokane area this time of year. There are lots of things to do to celebrate the holidays and the season, while supporting your local businesses and organizations in the process.
Looking for things to do on weeknights and weekends? Good thing you live in Spokane……
Downtown Carriage Rides
Thanks to STCU and the Downtown Spokane Partnership, you can experience downtown Spokane the old fashioned way – by horse and carriage.
Take a Photo with Santa
The kids are probably dying to let Santa know what they want for Christmas. Take them to River Park Square where they can hand over their gift list to Santa. You can also catch St. Nick at Northtown Mall.
Hit the Ski Trails
As of this writing, Mt. Spokane should be open soon. Hit the cross country trails or – if downhill skiing is your go-to – check out the new lodge addition while shredding some powder.
Christmas Tree Elegance
Check out the Christmas Trees at The Davenport Hotel now through Dec. 8. You can also win prizes.
Santa Express
Take the kids to Santa Express and have them shop for their friends and families while supporting the Vanessa Behan Crisis Nursery.
Donate to the Salvation Army
We're all familiar with the Red Kettle Campaign and bell ringing outside various grocery stores around town. Help the Salvation Army fill those kettles to the brim! The organization has a number of activities this season.
Buy a Christmas Tree at the Hutton Settlement
Did you know that when you purchase a Christmas Tree from the Hutton Settlement, all proceeds go back to the children at the home?
Christmas Lights at Manito Park
Take a walk around Manito Park and check out the lights at the Gaiser Conservatory. It's quite the display!
Liberty Lake Winter Festival
Tomorrow is Liberty Lake's Winter Festival, where there will be crafts, hayrides, live music, a Christmas Tree lighting, photos with Santa, and lots more. Bring the kids!
There's a sampling of what you can do this winter in Spokane. Got any other ideas?