Tweet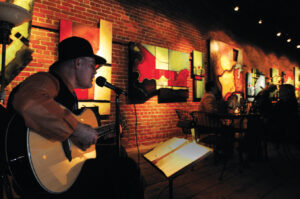 The reasons Bloomsday, Hoopfest, the Lilac Parade and other events in Spokane are so successful can be traced back to great thinking by great minds.
First Friday is no different.
This celebration of drawings, paintings, sculptures, music, theatre and much more happens the first Friday of just about each month in downtown Spokane, bringing artists, businesses and the community together.
Let's take a look at how First Friday began and how beneficial it is to the businesses involved and our community.
Spokane residents might remember Live after 5, the Thursday celebration of music in downtown Spokane. Residents might also recall the Visual Arts Tours and various art exhibits that happened the first Friday of each month (the Visual Arts Tours still happen twice a year).
In the 1990's, City Arts Director Karen Mobley arrived at the Spokane Arts Commission. Marketing the existing art exhibits was difficult, given the available resources.
"When I first came, we basically had a Xerox copy that we'd make in our office and run around to the art galleries," Mobley said. "That was about the sum total of the marketing."
Enter Annie Matlow of the Downtown Spokane Partnership at the time, and now the Spokane Symphony, and the seeds of First Friday were planted. With Live After 5 celebrating music, and the art exhibits celebrating art, Matlow and Mobley figured if they wanted to grow the arts around town, why not combine the two?
"We kind of morphed it all together so that the art galleries, the Live After 5 people and others started working together," Mobley said.
The Arts Commission now pairs area artists with different businesses for First Friday. The public can make it from venue to venue with ease. In 2004, Marla Nunberg of the Downtown Spokane Partnership (DSP) started partnering with the Arts Commission to promote First Friday. The DSP produced Live After 5 and the art exhibits all along, and this shows how all those events and organizations morphed together.
Say you were strolling through downtown Spokane this Friday. If you visit Barrister Winery, you'd be able to see the works of Spokane artist Brendan Genther, as well as enjoy some nice acoustic blues from Lyle Morse. Then, you might make your next stop at The Davenport Hotel's Peacock Lounge, where you'd be treated to jazz and pop hits from Nicole Lewis.
If that wasn't enough, you could also make your way to the Arbor Crest Tasting Room in River Park Square to sample some wine and check out the art from Larisa Amland (who just happens to be a new Spokane resident. Welcome!).
Needless to say, there's plenty to do and see on First Friday.
Mobley said two groups benefit from First Friday: the galleries that host the art and the downtown bars and restaurants. With people walking around downtown during First Friday, the more likely they are to stop by a gallery or a restaurant. First Friday is great because any business can host. Edward Jones Investments participates, as does a variety of wineries, hair salons and boutiques.
"First Friday gives businesses the opportunity for more public exposure," said Tammy Pruitt of the DSP. "It provides our local artists with additional venues to display their work and it gives the public a chance to see parts of their downtown neighborhood they may not always frequent."
First Friday happens downtown, but that doesn't mean Spokane's art only lives downtown. Other areas offer art walks and tours, such as South Perry's Third Thursdays, The Garland Street Fair and various events at the Northwest Museum of Arts & Culture, among others (who can forget ArtFest each year?)
With all the art, attractions and fun on these Friday nights, isn't this one feature that makes Spokane great?


Photos courtesy of the Downtown Spokane Partnership