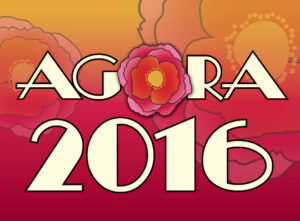 The 31st annual AGORA Awards happen June 1 and if the record number of nominations submitted is any indication, this year is going to be bigger and better than ever!
At the beginning of each year we solicit nominations from members, volunteers, past winners and nominees, business owners and the general public. Any charitable non-profit or business is eligible, whether or not they're a member of GSI. This year a total of 290 different entities were nominated – that's pretty amazing, but not surprising, really, when you consider just how many incredible businesses there are to choose from!
2016 Finalists will be chosen by March 14, and finalist interviews will happen between March 21 and April 1. Winners are selected in five categories – small and large charitable nonprofit, and small, medium and large business – and judges also award AGORAs for Community Service and Entrepreneurial Spirit. We'll announce the winners at the AGORA Awards event, held in the luxurious Davenport Grand Hotel on June 1.
Because this event continues to grow and evolve, we're appointing our first-ever Honorary Chair, Chris McFaul. An Honorary Chair is secured to share their experience among supporters and partners. The Chair speaks on behalf of the organization, business partners and community leaders to augment and raise awareness about the event, and Chris is a perfect fit for AGORA. In 2010 Chris' organization – Horizon Hospice – joined GSI and in 2011 they were awarded an AGORA in the Medium Business category. Chris is a true team player, understands parity and lives the GSI mission. While AGORA focuses on Business Excellence, Chris exemplifies all of the personal characteristics that make excellence part of all he does in life!
Since the AGORA Awards began we've had one amazing Title Sponsor – Bank of America – and, because they believe in the value of investing in business excellence, they're returning for a 31st time! Asuris is joining us as a category sponsor this year, and, as we get closer to the event we'll have even more fantastic supporters to recognize!
Seating for this event is limited, and registration is open now … Visit our AGORA event page to secure your spot today!
Here is the list of our 2016 AGORA Awards semi-finalists – CONGRATULATIONS!!! See someone you know in this list? Make sure to congratulate them on their progress through the process … And be sure you're at the event in June so you can be one of the first to give them a high-five for being so awesome!
Small Business
Indaba Coffee
Star Financial and Insurance Services
Kendall Yards Farmers Market
Tinderbox Consulting
Jason Swain & Associates LLC
Hold On Now
River Linguistics Inc
The Lantern Tap House
Medium Business
Paw Print Genetics
Ben and Jerry's
Ramada at Spokane Airport
C & H Auto
Vorpahl Wing Securities
Wild Sage Restaurant
Spokane Gymnastics
Professional Investigators Intl
Large Business
Hydrafab
Itron
Family Home Care
Etailz
Zerorez
Nuvodia
Adams Tractor
CDA Resort/Hagadone Hospitality Corp.
Small Non-Profit
Communities in Schools of Spokane County
Spokane Create
The Lands Council
Rivers Wish Animal Sanctuary
Create Your Statement
Large Non-Profit
Partners with Families & Children: Spokane
Career Path Services
Shriners Hospitals for Children
Northwest Christian Schools
Greater Spokane County Meals on Wheels