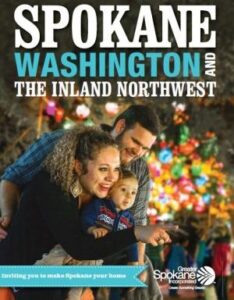 2016 Relocation Guide Feature:
Mary Cullinan, Ph.D., President, Eastern Washington University
The 2016 Relocation Guide features our vibrant and innovative region, including the facts, flavor and faces of the Spokane community. Thanks to the Journal of Business for this great publication, to our writer Mariesa Stokes and photographer Red Mammoth Studios.
We will be featuring over the new couple of months some of the people that call Spokane home. To pick up free copies of the guide, contact Nancy Vanni in our office at 509.321.3601 or nvanni@greaterspokane.org. Visit the online Relocation Guide at MovetoSpokane.com. 
Production of the 2017 Relocation Guide is also underway. Approximately 8,000 are distributed throughout the U.S. If you are interested in advertising, contact the Journal of Business at 456-5257.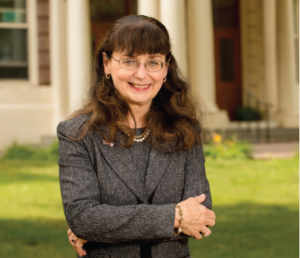 Mary Cullinan, President, Eastern Washington University
Hometown: Washington, D.C.
Place of Residence: Cheney
Occupation: President, Eastern Washington University
Dr. Mary Cullinan's career has taken her to a lot of cities. The President of Eastern Washington University has lived in the San Francisco Bay area, Washington, D.C., Philadelphia, east Texas and southern Oregon, to name a few. But today, she's happy to call Eastern Washington home.
"This is a great size and great region," she said. "I've enjoyed every place I've lived, but the Inland Northwest offers the variety of a larger urban area- shopping, plays, concerts, lovely restaurants- but it also has the intimacy of a smaller community so people know each other. That's really a treat."
Dr. Cullinan says another thing she's found here that she really likes is the enthusiasm. "I love that people are so proud of this region and the land. When I got here, someone wanted to take me on a tour of the Palouse, people gave me books on the history of the region, others wanted to tell me about the World's Fair and the creation of Riverfront Park. Everyone is so enthusiastic."
And there's just so much to do here. "My first few weeks here I threw out a pitch for the Spokane Indians baseball game, I tossed a coin, dropped a puck, ran in Bloomsday and attended the Lilac festival and the Red Dress event. It's an exciting place to be, and I'm happy to be able to participate in social, cultural and philanthropic events for so many wonderful causes."
The universities offer a variety of opportunities as well, she said, including athletic events- football, volleyball, basketball and track- live music, plays lectures and more. And the schools bring a lot of interesting people to the area. "The thousands of students from every state and all over the world bring so much diversity to the region. People have been attracted here from all sorts of places and have found it to be a wonderful home."
Dr. Cullinan says it's crucially important that we have Whitworth, Gonzaga, Eastern Washington and Washington State Universities and the community colleges here. "I'm not sure everyone understands how profound the existence of those institutions in a city this size really is. They make a tremendous difference to the city and the region. They're preparing students to be part of the local economic workforce. They bring art, culture and entertainment and provide richness to the environment that simply would not exist if those institutions weren't here."
Dr. Cullinan is co-chair of Spokane STEM, she's a member of Rotary 21 and is on the board of Greater Spokane Incorporated. She's also part of GSI's Higher Education Leadership Group along with the presidents and chancellors of the other area universities. "We meet to solve problems together instead of being competitive. We work collaboratively- which I think is a hallmark of this region."