Government Contracting Program Gives Businesses New Clients and Contracts
By Pia Hallenberg, Content by Pia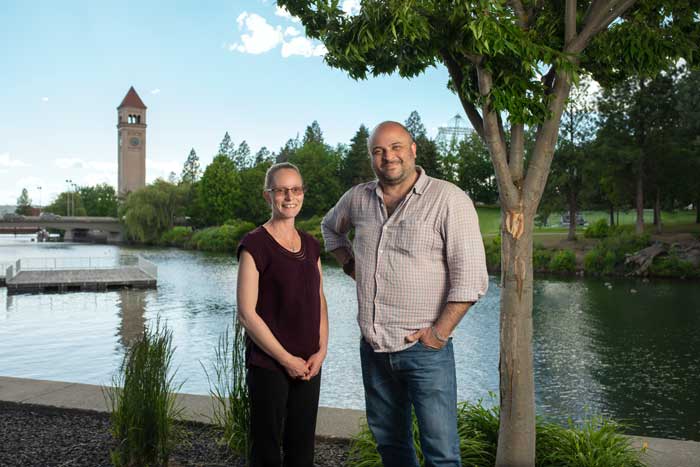 Alex Barrouk grew up in France but founded his business Aim & Build Consulting and Development (ABCD) right here in Spokane. ABCD is a growth and change agent company that acts a lot like a company's primary care doctor: they assess where it hurts, for how long, and then help the company find a better way of doing business.
"ABCD is not a traditional business with employees," Barrouk said. "What we are is a group of strong subject matter experts, each with a special area like finance or communication. My job is to go out and find work for us."
When COVID took hold and businesses shut down left and right Barrouk, like many other business owners, grew very worried about the future of his company.
"Basically, all private business was gone there for a while, but the one thing that didn't shut down was the government," Barrouk said. "And I thought to myself: that's what I need for my business – a client that never shuts down – because you never know what's going to happen to the economy."
ABCD got a contract with SIMBA, and then was awarded its first contract with the City of Spokane.
A chance encounter with Aleesha Roedel, Eastern Washington's Procurement Technical Assistance Center (PTAC) specialist, quickly made it clear to Barrouk that he was right on target with government contracts.
PTAC is a program of Greater Spokane Inc. that helps businesses compete for state and federal contracts, and most of the advice and instruction provided by the Eastern Washington office is free.
"Alex was already doing so well when we met," Roedel said. "But it can be quite overwhelming for a business when it first looks at becoming a government contractor."
All government contracting and purchasing takes place via a giant online portal.
"The first step for a client seeking PTAC assistance is to register as a client," Roedel said. "It can be overwhelming when they try to do it themselves. The biggest challenge is navigating through the signup process – but I am here to help with that."
PTAC provides a sort of wrap-around business service with one goal: to get the business a government contract.
Roedel said there is a huge market for businesses because the government buys everything from screws to communication development to bird watching.
"Yes, bird watching. There was an eagle's nest that could not be disturbed during some construction on Boundary Dam and we had a contract for someone to watch that nest," Roedel said.
Businesses qualify in various areas and markets, and they may also qualify for certifications such as 'Women Owned Business' or 'Minority Owned Business' which may help them bid for certain contracts.
Right now, Roedel has a lot of Forest Service clients partly because of the brutal fire seasons.
"The U.S. Forest Service operates with three-year blanket purchasing agreements and right now it's for heavy equipment and refrigerated trailers," Roedel said. "Almost every client I have assisted in this area has won a contract. That's 15 or 20 contracts."
Roedel added that PTAC is an untapped resource for local businesses because the process seems onerous. For instance, a company has to register in a specific purchasing profile to be competitive.
"I help them with state and federal certification and everything else they need," Roedel said.
She did exactly that for Barrouk and ABCD.
"I'm selling a group of people who can impact a business on a deeper level and make for real growth and real change," Barrouk said.
Roedel matched ABCD with several contracts, including one for GSI and another one for PTAC.
"One of the things ABCD did for GSI was to look at a very granular level what makes a business locate in Hayden or Post Falls or Liberty Lake, and not in Washington," Barrouk said. "Knowing that decision-making process will help GSI get better at motivating a business to locate in Washington."
Barrouk added that Roedel is a fantastic resource for businesses of all sizes.
"She is just amazingly great at what she does – remarkably, we have access to this service for free," Barrouk said.
"There are many different sizes and sources of contracts: Federal, state, county, and the city comes to mind, but there are also contracts for libraries and other districts. Sometimes businesses can collaborate and bid on a contract together," Roedel said.
"If one lacks the qualifications in one area, then maybe the other one can step in and it works out really well," Roedel said.
Barrouk is grateful for the help which has solidified his company.
"PTAC is a very inclusive process – anyone can go and get help. Inclusivity is part of who we are and how we can help Spokane be a great region," Barrouk said. "I started with nothing and then GSI helped me and now I help them – it's great."
For more information about PTAC, visit gsiptac.org.
*The GSI Connect Magazine is published in partnership with the Spokane Journal of Business. To read the 2022-2023 edition of the magazine view the digital publication here or contact us to pick up your copies today.