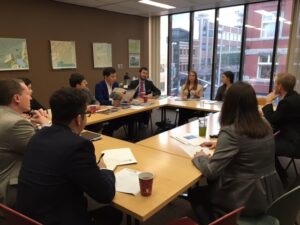 GSI was pleased recently to sit down for a study session with a visiting Open World Delegation.  The Open World Program, partnering with the Rumsfeld Foundation and Johns Hopkins SAIS, enables individuals from Central Asia, the Caucasus, Afghanistan and Mongolia to pursue research projects and establish ties with their counterparts in the United States. The focus of the visit was accountable governance and economic development. The group was being hosted by Community Colleges of Spokane.
The Open World Leadership Center (OWLC) believes that principles of accountability, governance, and the role of citizenry in government are most effectively illustrated through direct interaction between participants and their U.S. professional counterparts and through hosted community and cultural activities.
The program brings groups of five to six participants for theme-based visits to the United States.  The delegation to Spokane included representatives from Afghanistan, Georgia, Kyrgyzstan, Mongolia, and Uzbekistan. The visits usually begin with an orientation in Washington, D.C., followed by a program in a local community.  Participants are placed in homestays and attend professional appointments during the day. Programs address the theme of federalism and representative government, as well as other topics such as rule of law, health, environment, economic development, education reform, and social services.