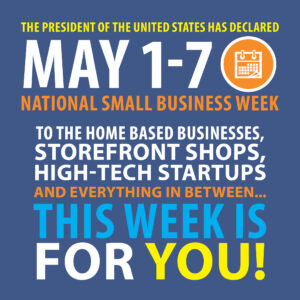 The President has declared May 1 – 7 national Small Business Week and we want to help support and recognize all of the great small businesses throughout our community doing great things. Did you know that 76% of GSI members have 50 or fewer employees and that 42% have 10 or fewer employees?
GSI is working to create something greater in our community and we're glad that our small business members are helping us. In addition to supporting the development of our community and our region that ultimately brings dollars to your front door, we offer a full array of programs and services through our BizStreet Small Business Program dedicated to helping your small business do more business: educational opportunities, intentional connections, cost-savings programs (Small Business Appreciation event is coming up!) are just the beginning. Here are just a few.


Small Business Appreciation
You're invited to join us at Martin Woldson Theater at The Fox on May 19 to celebrate the importance of small businesses within our community. BizStreet, our small business program is a tool that enhances the success of your business, and your GSI membership. Come celebrate with us, bring a friend and enjoy an hors d'oeuvre reception! Free to members.
B2B Leads & Referral Groups
When you're ready for more business, we're ready for you! Connect directly with new customers through trusted referrals.
Workshops
Business basics to help your business grow: Leadership, communications, financials, marketing, hiring, prospecting, social media, trademarks and more!
Small Business Council and other committees
Join us to help foster a stronger environment for entrepreneurship, business growth and retention, and drive initiatives important to small businesses.
Startup Spokane
Entrepreneurial and small business resource connections and support to help you start, build and expand your business.
Buy Local Program
This local initiative keeps our neighbors working, keeps our economy and community strong, and keeps our dollars right here at home!
Small Business Saturday
Celebrated on the Saturday after Thanksgiving as a way to encourage support of small, local businesses, this is an excellent effort that solidifies your foothold in the local
business community!
and more… If you have questions about how to make the most of your benefits or how we can get you plugged in, please contact Heather Hamlin, Membership Manager, in our office.