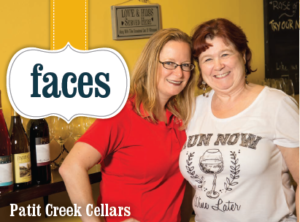 Place of Residence: The South Hill
Occupations: Director of Hospitality & Sales; Tasting Room Manager
For Sonya Morrison and her month Linda Clark, moving cross-country to Spokane was all part of a love story. They've been here three years and are still wild about the Inland Northwest.
This dynamic mother-daughter duo has lived in a lot of places. Once a military family, they had stops at 15 duty stations and have spent time in Montana, Iowa, Oklahoma, Arizona and Virginia to name a few. Five years ago they were in Vero Beach, Florida, when Sonya reconnected with her middle school sweetheart on Facebook. He was living in Virginia and they dated long-distance. To celebrate their first anniversary, the couple visited his father, who owned a winery in Walla Walla.
"It was love at first smell," says Sonya. "The fermenting grapes were warm and luscious, the barrel room was incredible. I was hooked from the moment I got here." Sonya started flying in to help out at big events. She learned about wines and about Washington. When the subject of opening a new tasting room came up, she eagerly researched locations. She did a whirlwind tour of Spokane and instantly knew this was the place.
"I love the weather, the four seasons, the outdoor activities, but the thing that sold me on Spokane was the people," she says. "I expected to find a city attitude, but it felt welcoming like going to Sunday dinner at my grandmother's house."
Sonya convinced her mom to move here, and she's equally enamored with Eastern Washington.
"I love that Spokane is always different," says Linda. "It can be hot during the day and very cool at night. The scenery includes mountains and desert and beautiful rocks and farms and neat rural areas. You don't see that in other places like you do here."
"I can drive 10 miles and hike in the middle of nowhere, then go home, shower, and go work downtown," says Sonya. There's just such a variety of things to do here, and all so nearby."
Linda says she loves how historic downtown businesses have been refurbished and she enjoys exploring the Fox and Bing Crosby theaters, the Knitting Factory, the Steam Plant, the Flour Mill and the historic Davenport, which is across the street from their tasting room. Patit Creek Cellars is also a prime location for people watching.
"Spokane is eclectic. People have their own style, and everyone seems comfortable in their own skin."
"We meet people from everywhere in the world and they always say how wonderful the people of Spokane are," Sonya says. "for us, people have been incredibly supportive and encouraging. They've helped us make business connections, and good friends. We really feel part of the community. Spokane is a pretty special place."