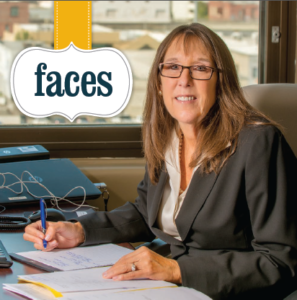 Hometown: Eugene, OR
Occupation:  CEO Deaconess Hospital; Chief Strategy Officer Rockwood Health Systems
Maurine Cate lived a lot of places before coming to the Inland Northwest- Eugene, Pasadena, Anaheim Hills, Sacramento, Memphis, Dallas, Newport Beach, Philadelphia and Woodland, California to be exact. And yet, she and her husband still managed to find some nice surprises when they moved to Spokane.
"There are so many hiking trails and great restaurants!"
Cate was transferred from Eugene, Oregon to Deaconess Hospital with Community Health Systems in 2014. Trying to create some work-life balance, she and her husband have date night of Fridays, and that's helped them get to know their new city. "I was hoping for good food. It's been really fun to explore and try all the terrific places here," she said. "We've had great food at some of the wineries, too. And many of them have live music and events for First Friday."
They've also found time to do plenty of exploring outdoors. "With the close proximity to so many lakes, we've been able to get out on the water several times of weekends," she said. They've also hiked different parts of the Centennial Trail and plan to do the Trail of the Coeur d'Alenes. And they don't have to go far to get out. "Our neighborhood is fantastic! We have beautiful hiking trails right behind our house. We're waiting to see our first moose!"
Another thing Cate likes about Spokane is how close everything is- and yet it feels so far away. "It's a 15-minute commute home from work, garage-to-garage, and I'm out of the city and in the country. It's a relaxing, rural setting, but everything is so close by. Spokane has that smaller town feel, which is really nice, but then it also has all of the amenities of a bigger city, like shopping and restaurants."
She and her husband have ventured outside of Eastern Washington for weekend getaways. Just a few hours' drive away, they've visited Seattle, Walla Walla, White Fish and Canada.
"There really are some great things about Spokane," she said. "The cost of living is reasonable and there's no state income tax. Whatever your interests are, there are all kinds of fun activities to do here. And if you like four seasons, the weather is spectacular!"